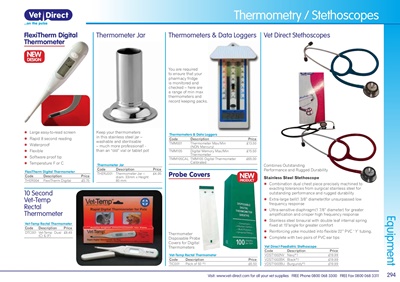 294
Visit: www.vet-direct.com for all your vet supplies FREE Phone 0800 068 3300 FREE Fax 0800 068 3311Equipment
10 Second
Vet-Temp
Rectal
Thermometer
Vet-Temp Rectal Thermometer
Code Description Price
DTC001 Vet-Temp Dual
(C) & (F)
£8.49
Vet-Temp Rectal Thermometer
Code Description Price
TIC001 Pack of 50 *1 £6.50
Thermometry / Stethoscopes
Thermometer Jar
Keep your thermometers
in this stainless steel jar -
washable and sterilisable
- much more professional! -
than an "old" vial or tablet pot
FlexiTherm Digital
Thermometer
Thermometers & Data Loggers
You are required
to ensure that your
pharmacy fridge
is monitored and
checked - here are
a range of min max
thermometers and
record keeping packs.
Thermometers & Data Loggers
Code Description Price
TMM001 Thermometer Max/Min
(NON Mercury)
£13.50
TMM105 Digital Memory Max/Min
Thermometer
£15.50
TMM105CAL TMM105 Digital Thermometer
Calibrated
£65.00
FlexiTherm Digital Thermometer
Code Description Price
THER004 FlexiTherm Digital £5.75
Thermometer Jar
Code Description Price
THERJ001 Thermometer Jar -
diam. 33mm x Height
80 mm
£4.95
Vet Direct Stethoscopes
Combines Outstanding
Performance and Rugged Durability
Stainless Steel Stethoscope
X Combination dual chest piece precisely machined to
exacting tolerances from surgical stainless steel for
outstanding performance and rugged durability
X Extra-large bell(1 3/8" diameter)for unsurpassed low
frequency response
X Ultra-sensitive diaphragm(1 7/8" diameter) for greater
amplification and crisper high frequency response
X Stainless steel binaural with double leaf internal spring
fixed at 15°angle for greater comfort
X Reinforcing yoke moulded into flexible 22" PVC ' Y' tubing.
X Complete with two pairs of PVC ear tips
Vet Direct Paediatric Stethoscope
Code Description Price
VDST1002NV Navy*1 £19.99
VDST1002BK Black*1 £19.99
VDST1002BU Burgundy*1 £19.99
X Large easy-to-read screen
X Rapid 8 second reading
X Waterproof
X Flexible
X Software proof tip
X Temperature F or C
NEWDESIGN
Probe Covers
Thermometer
Disposable Probe
Covers for Digital
Thermometers
NEWPRODUCT