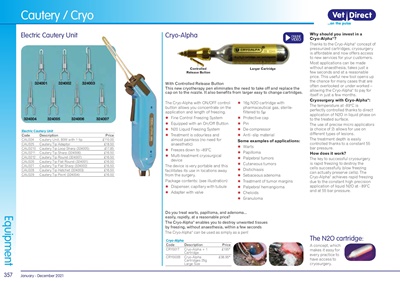 357Equipment January - December 2021
Cautery / Cryo
Electric Cautery Unit
Electric Cautery Unit
Code Description Price
CAU324 Cautery Unit, 80W with 1 tip £110.00
CAU325 Cautery Tip Adaptor £18.50
CAU3210 Cautery Tip Loop Sharp (324005) £17.85
CAU3211 Cautery Tip Sharp (324006) £16.50
CAU3212 Cautery Tip Round (324007) £16.50
CAU326 Cautery Tip Flat Round (324001) £16.50
CAU327 Cautery Tip Flat Sharp (324002) £16.50
CAU328 Cautery Tip Hatchet (324003) £16.50
CAU329 Cautery Tip Point (324004) £16.50
Do you treat warts, papilloma, and adenoma...
easily, rapidly, at a reasonable price?
The Cryo-Alpha" enables you to destroy unwanted tissues
by freezing, without anaesthesia, within a few seconds
The Cryo-Alpha" can be used as simply as a pen!
The N2O cartridge:
A concept, which
makes it easy for
every practice to
have access to
cryosurgery.
Why should you invest in a
Cryo-Alpha"?
Thanks to the Cryo-Alpha" concept of
pressurized cartridges, cryosurgery
is affordable and now offers access
to new services for your customers.
Most applications can be made
without anaesthesia, takes just a
few seconds and at a reasonable
price. This useful new tool opens up
the chance for many cases that are
often overlooked or under worked -
allowing the Cryo-Alpha" to pay for
itself in just a few months.
Cryosurgery with Cryo-Alpha":
The temperature at -89°C is
perfectly controlled thanks to direct
application of N2O in liquid phase on
to the treated surface.
The use of precise micro applicators
(a choice of 2) allows for use on
different types of lesions.
The treatment depth is easily
controlled thanks to a constant 55
bar pressure.
How does it work?
The key to successful cryosurgery
is rapid freezing to destroy the
cells successfully (slow freezing
can actually preserve cells). The
Cryo-Alpha" achieves rapid freezing
due to the constant high precision
application of liquid N2O at - 89°C
and at 55 bar pressure.
Cryo-Alpha
The Cryo-Alpha with ON/OFF control
button allows you concentrate on the
application and length of freezing.
X Fine Control Freezing System
X Equipped with an On/Off Button
X N20 Liquid Freezing System
X Treatment is odourless and
almost painless (no need for
anaesthetic)
X Freezes down to -89°C
X Multi-treatment cryosurgical
device
The device is very portable and this
facilitates its use in locations away
from the surgery.
Package contents: (see illustration)
X Dispenser, capillary with tubule
X Adapter with valve
X 16g N2O cartridge with
pharmaceutical gas, sterilefiltered
to 5µ
X Protective cap
X Pin
X De-compressor
X Anti -slip material
Some examples of applications:
X Warts
X Papilloma
X Palpebral tumors
X Cutaneous tumors
X Distichiasis
X Sebaceous adenoma
X Treatment of tumor margins
X Palpebral hemangioma
X Cheloids
X Granuloma
With Controlled Release Button
This new cryotherapy pen eliminates the need to take off and replace the
cap on to the nozzle. It also benefits from larger easy to change cartridges.
Controlled
Release Button
Larger Cartridge
ONLINE
VIDEO
Cryo-Alpha
Code Description Price
CRY001T Cryo-Alpha + 1
Cartridge
£195*
CRY003B Cryo-Alpha
Cartridges 25g
Large Size
£38.95*