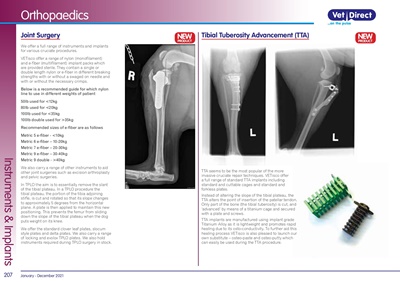 207Instruments & Implants January - December 2021
Orthopaedics
Joint Surgery Tibial Tuberosity Advancement (TTA)
TTA seems to be the most popular of the more
invasive cruciate repair techniques. VETisco offer
a full range of standard TTA implants including
standard and cuttable cages and standard and
forkless plates.
Instead of altering the slope of the tibial plateau, the
TTA alters the point of insertion of the patellar tendon.
Only part of the bone (the tibial tuberosity) is cut, and
'advanced' by means of a titanium cage and secured
with a plate and screws.
TTA implants are manufactured using implant grade
Titanium Alloy as it is lightweight and promotes rapid
healing due to its osto-conductivity. To further aid this
healing process VETisco is also pleased to launch our
own substitute - osteo-paste and osteo-putty which
can easily be used during the TTA procedure.
NEWPRODUCT NEWPRODUCT
We offer a full range of instruments and implants
for various cruciate procedures.
VETisco offer a range of nylon (monofilament)
and e-fiber (multifilament) implant packs which
are provided sterile. They contain a single or
double length nylon or e-fiber in different breaking
strengths with or without a swaged on needle and
with or without the necessary crimps.
Below is a recommended guide for which nylon
line to use in different weights of patient
50lb used for <12kg
80lb used for <20kg
100lb used for <35kg
100lb double used for >35kg
Recommended sizes of e-fiber are as follows
Metric 5 e-fiber - <10kg
Metric 6 e-fiber - 10-20kg
Metric 7 e-fiber - 20-30kg
Metric 9 e-fiber - 30-40kg
Metric 9 double - >40kg
We also carry a range of other instruments to aid
other joint surgeries such as excision arthroplasty
and pelvic surgeries.
In TPLO the aim is to essentially remove the slant
of the tibial plateau. In a TPLO procedure the
tibial plateau, the portion of the tibia adjoining
stifle, is cut and rotated so that its slope changes
to approximately 5 degrees from the horizontal
plane. A plate is then applied to maintain this new
positioning. This prevents the femur from sliding
down the slope of the tibial plateau when the dog
puts weight on its knee.
We offer the standard clover leaf plates, slocum
style plates and delta plates. We also carry a range
of locking and evolox TPLO plates. We also hold
instruments required during TPLO surgery in stock.