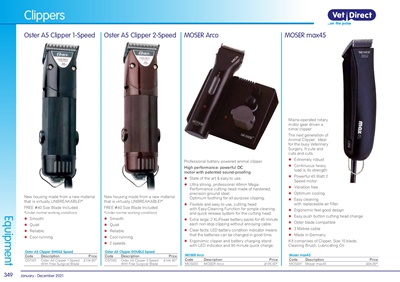 349Equipment January - December 2021
Clippers
Professional battery powered animal clipper
High performance: powerful DC
motor with patented sound-proofing
X State of the art & easy to use.
X Ultra strong, professional 46mm MegaPerformance
cutting head made of hardened,
precision ground steel.
Optimum toothing for all-purpose clipping.
X Flexible and easy to use, cutting head
with Easy-Cleaning Function for simple cleaning
and quick release system for the cutting head.
X Extra large: 2 XL-Power battery packs for 45 minute
each non-stop clipping without annoying cable.
X Clear facts: LED battery condition indicator means
that the batteries can be changed in good time.
X Ergonomic clipper and battery charging stand
with LED indicator and 90 minute quick charge.
MOSER Arco
Mains-operated rotary
motor gear driven a
nimal clipper
The next generation of
Animal Clipper. Ideal
for the busy Veterinary
Surgery. It cuts and
cuts and cuts.
X Extremely robust
X Continuous heavy
load is its strength
X Powerful 45 Watt 2
Speed motor
X Vibration free
X Optimum cooling
X Easy cleaning
with replaceable air filter
X Ergonomic feel-good design
X Easy push button cutting head change
X Oster blade compatible
X 3 Metres cable
X Made in Germany
Kit comprises of Clipper, Size 10 blade,
Cleaning Brush, Lubricating Oil
MOSER max45
MOSER Arco
Code Description Price
MOS002 MOSER Arco £105.00*
Moser max45
Code Description Price
MOS001 Moser max45 £94.95*
Oster A5 Clipper 1-Speed
New housing made from a new material
that is virtually UNBREAKABLE!#
FREE #40 Size Blade Included
#Under normal working conditions
Oster A5 Clipper 2-Speed
New housing made from a new material
that is virtually UNBREAKABLE!#
FREE #40 Size Blade Included
#Under normal working conditions
Oster A5 Clipper SINGLE Speed
Code Description Price
OST001 Oster A5 Clipper 1-Speed
With Free Surgical Blade
£124.95*
Oster A5 Clipper DOUBLE Speed
Code Description Price
OST002 Oster A5 Clipper 2-Speed
With Free Surgical Blade
£144.95*
X Smooth
X Quiet
X Reliable
X Cool-running
X Smooth
X Quiet
X Reliable
X Cool-running
X 2 speeds