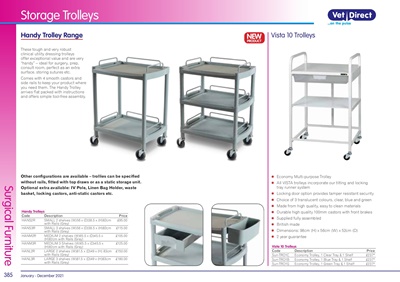 385Surgical Furniture January - December 2021
Storage Trolleys
X Economy Multi-purpose Trolley
X All VISTA trolleys incorporate our tilting and locking
tray runner system
X Locking door option provides tamper resistant security
X Choice of 3 translucent colours, clear, blue and green
X Made from high quality, easy to clean materials
X Durable high quality 100mm castors with front brakes
X Supplied fully assembled
X British made
X Dimensions: 98cm (H) x 56cm (W) x 52cm (D)
X 2 year guarantee
Vista 10 Trolleys
Vista 10 Trolleys
Code Description Price
Sun-TRO1C Economy Trolley, 1 Clear Tray & 1 Shelf £237*
Sun-TRO1B Economy Trolley, 1 Blue Tray & 1 Shelf £237*
Sun-TRO1G Economy Trolley, 1 Green Tray & 1 Shelf £237*
Handy Trolleys
Code Description Price
HANS2R SMALL 2 shelves (W)56 x (D)38.5 x (H)82cm
with Rails (Grey)
£95.00
HANS3R SMALL 3 shelves (W)56 x (D)38.5 x (H)82cm
with Rails (Grey)
£115.00
HANM2R MEDIUM 2 shelves (W)65.5 x (D)45.5 x
(H)82cm with Rails (Grey)
£105.00
HANM3R MEDIUM 3 Shelves (W)65.5 x (D)45.5 x
(H)82cm with Rails (Grey)
£125.00
HANL2R LARGE 2 shelves (W)81.5 x (D)49 x (H) 83cm
with Rails (Grey)
£150.00
HANL3R LARGE 3 shelves (W)81.5 x (D)49 x (H)83cm
with Rails (Grey)
£180.00
These tough and very robust
clinical utility dressing trolleys
offer exceptional value and are very
"handy" - ideal for surgery, prep,
consult room, perfect as an extra
surface, storing sutures etc.
Comes with 4 smooth castors and
side rails to keep your product where
you need them. The Handy Trolley
arrives flat packed with instructions
and offers simple tool-free assembly.
Other configurations are available - trollies can be specified
without rails, fitted with top draws or as a static storage unit.
Optional extra available: IV Pole, Linen Bag Holder, waste
basket, locking castors, anti-static castors etc.
Handy Trolley Range NEWPRODUCT