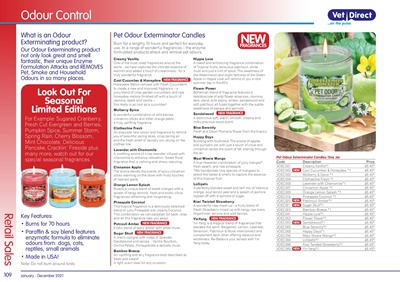 109Retail Sales January - December 2021
Odour Control
Pet Odour Exterminator Candles
Creamy Vanilla
One of the most loved fragrances around the
world - we have captured the ultimate essence of
warmth and added a touch of creaminess - for a
truly wonderful fragrance.
Cool Cucumber & Honeydew
Honeydew Melon remixed with Fresh Cucumbers
to create a new and improved fragrance - a
juicy blend of crisp garden cucumbers and ripe
honeydew melons finished off with a touch of
jasmine, apple and vanilla -
this really is as cool as a cucumber!
Mulberry Spice
A wonderful combination of wild berries,
cinnamon sticks and bitter orange peels -
a truly uplifting fragrance.
Clothesline Fresh
An exquisite new colour and fragrance to remind
you of beautiful spring skies, crisp spring air
and the fresh smell of laundry sun drying on the
clothes line.
Lavender with Chamomile
A soothing aroma of crisp lavender infused with
chamomile to enhance relaxation. Sweet floral
fragrance that is calming and stress reducing.
Cinnamon Apple
The aroma blends the scents of spicy cinnamon
sticks warming on the stove with fruity touches
of ripened apple.
Orange Lemon Splash
Boasts a unique blend of sweet oranges with a
splash of tangy lemons, fresh and exotic citrus
fragrances refreshing and invigorating.
Pineapple Coconut
This tropical fragrance is a deliciously balanced
blend of juicy Pineapple and creamy Coconut.
This combination we call paradise! Sit back, relax
and let this fragrance take you away!
Patcouli Amber
Exotic blend of spicy amber with white musk.
Sugar Skull
A men's cologne with notes of lavender,
Sandalwood and spices. - Vanilla Bourbon,
Orchid Petals, Pomegranate a delicate musk.
Bamboo Breeze
An uplifting and airy fragrance best described as
fresh and clean!!
A light scent ideal for any occasion.
Hippie Love
A sweet and entrancing fragrance combination
of Tropical fruits, sensuous patchouli, white
must and just a hint of spice. The sweetness of
the Watermelon and slight tartness of the Green
Apple in Hippie Love will remind of you a nice
summer day in the 60's
Flower Power
Bohemian blend of fragrance features a
kaleidoscope of wild flower essences, morning
dew, yland, pink peony, amber, sandalwood and
soft patchouli all fused together with the subtle
sweetness of papaya and apricots.
Sandalwood
A distinctive soft, warm, smooth, creamy and
milky precious-wood scent.
Blue Serenity
Fresh and Clean Plumeria flower from the tropics
Happy Days
Bursting with fruitiness! The aroma of apples
and pumpkin pie with just a touch of clove and
cinnamon sends the scent of fall soaring through
the air
Maui Wowie Mango
A true Hawaiian combination of juicy mangos*,
fresh peach, and ripe pineapple.
*We handpicked nine species of mangoes to
select the tastes & smells to capture the essence
of this tropical fruit.
Lollipets
A perfectly blended sweet and tart mix of Valencia
orange, sour lemon peel and a splash of jasmine
topped off with a sprinkle of sugar.
Kiwi Twisted Strawberry
A wonderful new mash-up - a fruity blend of
Fresh Strawberry mixed up with tangy ripe kiwis,
Argentinian lemons and wild berries.
YinYang
Yin Yang is a magical blend of fragrances that
elevates the spirit. Bergamot, Lemon, Lavender,
Geranium, Patchouli & Musk interconnect and
complement each other offering balance and
wholeness. Re-Balance your senses with Yin
Yang today.
Look Out For
Seasonal
Limited Editions
Pet Odour Exterminator Candles 13oz Jar
Code Description Price
VOEC001 Creamy Vanilla*1 £6.45*
VOEC002 Cool Cucumber & Honeydew *1 £6.45*
VOEC003 Mulberry & Spice *1 £6.45*
VOEC004 Clothesline Fresh *1 £6.45*
VOEC005 Lavender with Chamomile*1 £6.45*
VOEC007 Cinnamon Apple *1 £6.45*
VOEC009 Orange Lemon Splash *1 £6.45*
VOEC019 Pineapple Coconut *1 £6.45*
VOEC020 Patchouli Amber*1 £6.45*
VOEC021 Sugar Skull*1 £6.45*
VOEC023 Bamboo Breeze *1 £6.45*
VOEC041 Hippie Love*1 £6.45*
VOEC053 Flower Power*1 £6.45*
VOEC055 Sandalwood*1 £6.45*
VOEC065 Blue Serenity*1 £6.45*
VOEC068 Happy Days*1 £6.45*
VOEC078 Maui Wowie Mango*1 £6.45*
VOEC084 Lollipets*1 £6.45*
VOEC088 Kiwi Twisted Strawberry*1 £6.45*
VOEC089 Yin Yang*1 £6.45*
What is an Odour
Exterminating product?
Our Odour Exterminating product
not only look great and smell
fantastic, their unique Enzyme
Formulation Attacks and REMOVES
Pet, Smoke and Household
Odours in so many places.
For Example: Sugared Cranberry,
Fresh Cut Evergreen and Berries,
Pumpkin Spice, Summer Storm,
Spring Rain, Cherry Blossom,
Mint Chocolate, Delicious
Pancake, Cracklin' Fireside plus
many more, watch out for our
special seasonal fragrances.
ONLINE
VIDEO
Key Features:
· Burns for 70 hours
· Paraffin & soy blend features
enzymatic formula to eliminate
odours from: dogs, cats,
reptiles, small animals
· Made in USA!
Note: Do not burn around birds
NEW
NEW
NEW
NEW
NEW
Burn for a lengthy 70 hours and perfect for everyday
use. In a range of wonderful fragrances - the enzyme
formulated products attack and remove pet odours.
NEW FRAGRANCE
NEW FRAGRANCE
NEW FRAGRANCE
NEW FRAGRANCE
NEW FRAGRANCE NEW
FRAGRANCES