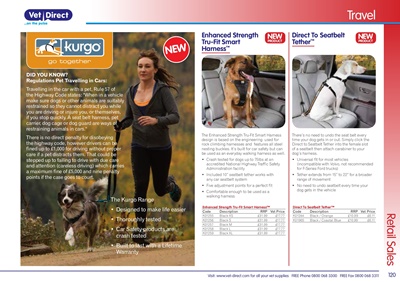 120
Visit: www.vet-direct.com for all your vet supplies FREE Phone 0800 068 3300 FREE Fax 0800 068 3311Retail Sales
DID YOU KNOW?
Regulations Pet Travelling in Cars:
Travelling in the car with a pet, Rule 57 of
the Highway Code states: "When in a vehicle
make sure dogs or other animals are suitably
restrained so they cannot distract you while
you are driving or injure you, or themselves,
if you stop quickly. A seat belt harness, pet
carrier, dog cage or dog guard are ways of
restraining animals in cars."
There is no direct penalty for disobeying
the highway code, however drivers can be
fined up to £1,000 for driving without proper
care if a pet distracts them. That could be
stepped up to failing to drive with due care
and attention (careless driving) which carries
a maximum fine of £5,000 and nine penalty
points if the case goes to court.
The Kurgo Range
• Designed to make life easier
• Thoroughly tested
• Car Safety products are
crash tested
• Built to last with a Lifetime
Warranty
NEW NEWPRODUCT NEWPRODUCT
Travel
Enhanced Strength
Tru-Fit Smart
Harness™
Direct To Seatbelt
Tether™
The Enhanced Strength Tru-Fit Smart Harness
design is based on the engineering used for
rock climbing harnesses and features all steel
nesting buckles. It's built for car safety but can
be used as an everyday walking harness as well.
• Crash tested for dogs up to 75lbs at an
accredited National Highway Traffic Safety
Administration facility
• Included 10" seatbelt tether works with
any car seatbelt system
• Five adjustment points for a perfect fit
• Comfortable enough to be used as a
walking harness
There's no need to undo the seat belt every
time your dog gets in or out. Simply click the
Direct to Seatbelt Tether into the female slot
of a seatbelt then attach carabiner to your
dog's harness.
• Universal fit for most vehicles
(incompatible with Volvo, not recommended
for F-Series Ford trucks)
• Tether extends from 15" to 22" for a broader
range of movement
• No need to undo seatbelt every time your
dog gets in the vehicle
Enhanced Strength Tru-Fit Smart Harness™
Code Description RRP Vet Price
K01255 Black XS £31.99 £17.77
K01256 Black S £31.99 £17.77
K01257 Black M £31.99 £17.77
K01258 Black L £31.99 £17.77
K01259 Black XL £31.99 £17.77
Direct To Seatbelt Tether™
Code Description RRP Vet Price
K01244 Black / Orange £10.99 £6.11
K01965 Black / Coastal Blue £10.99 £6.11