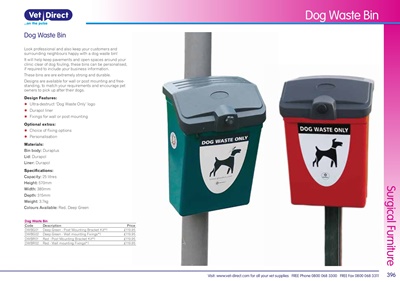 396
Visit: www.vet-direct.com for all your vet supplies FREE Phone 0800 068 3300 FREE Fax 0800 068 3311Surgical Furniture
Dog Waste Bin
Look professional and also keep your customers and
surrounding neighbours happy with a dog waste bin!
It will help keep pavements and open spaces around your
clinic clear of dog fouling, these bins can be personalised,
if required to include your business information.
These bins are are extremely strong and durable.
Designs are available for wall or post mounting and freestanding,
to match your requirements and encourage pet
owners to pick up after their dogs.
Design Features:
X Ultra-destruct 'Dog Waste Only' logo
X Durapol liner
X Fixings for wall or post mounting
Optional extras:
X Choice of fixing options
X Personalisation
Materials:
Bin body: Duraplus
Lid: Durapol
Liner: Durapol
Specifications:
Capacity: 25 litres
Height: 570mm
Width: 380mm
Depth: 315mm
Weight: 3.7kg
Colours Available: Red, Deep Green
Dog Waste Bin
Dog Waste Bin
Code Description Price
DWBG01 Deep Green - Post Mounting Bracket Kit*1 £119.95
DWBG02 Deep Green - Wall mounting Fixings*1 £119.95
DWBR01 Red - Post Mounting Bracket Kit*1 £119.95
DWBR02 Red - Wall mounting Fixings*1 £119.95