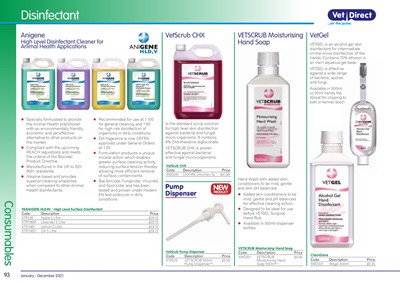 Consumables 93 January - December 2021
Disinfectant
Anigene
High Level Disinfectant Cleaner for
Animal Health Applications
VetScrub CHX VETSCRUB Moisturising
Hand Soap
ANIGENE
HLD4V
X Specially formulated to provide
the Animal Health practitioner
with an environmentally friendly,
economic and yet effective
alternative to other products on
the market.
X Compliant with the upcoming
REACH regulations and meets
the criteria of the Biocidal
Product Directive.
X Manufactured in the UK to ISO
9001 standards.
X Alkaline based and provides
superior cleaning properties
when compared to other Animal
Health disinfectants.
X Recommended for use at 1:100
for general cleaning and 1:50
for high risk disinfection of
organisms in dirty conditions.
X Dill fragrance is now DEFRA
approved under General Orders
at 1:20.
X Formulation produces a unique
micelle action which enables
greater surface cleaning activity,
reducing surface tension thereby
allowing more efficient removal
of surface contaminants.
X Bactericidal, Fungicidal, Virucidal
and Sporicidal and has been
tested and proven under modern
EN test protocols in dirty
conditions.
Is the standard scrub solution
for high level skin disinfection
against bacterial and fungal
micro-organisms. It contains
4% Chlorhexidine digluconate.
VETSCRUB CHX is proven
effective against bacterial
and fungal micro-organisms.
Hand Wash with added skin
conditioners to be mild, gentle
and skin pH balanced.
X Added skin conditioners to be
mild, gentle and pH balanced
for effective cleaning action.
X Designed to be ideal for use
before VETGEL Surgical
Hand Rub
X Available in 500ml dispenser
bottles
VetGel
VETGEL is an alcohol gel skin
disinfectant for intermediate
on-the-move disinfection of the
hands. Contains 70% ethanol in
an inert aqueous gel base.
VETGEL is effective
against a wide range
of bacteria, spores
and fungi.
Available in 500ml
or 50ml handy fob
(Great for clipping to
belt or kennel door)
VetSrub CHX
Code Description Price
XMD341 CHX 4% Chlorhex. 5L £47.85
VETSCRUB Moisturising Hand Soap
Code Description Price
XMD321 VETSCRUB
Moisturising Hand
Soap 500ml*1
£4.95
VetSrub Pump Dispenser
Code Description Price
XTR019 VETSCRUB 500ml
Pump Dispenser*1
£2.45
95ANIGENE HLD4V - High Level Surface Disinfectant
Code Description Price
XTR106 Apple 5 Litre £29.15
XTR106M Lavender 5 Litre £29.15
XTR106Y Lemon 5 Litre £29.15
XTR106D Dill 5 Litre £29.15
ChemGene
Code Description Price
XMD337 Vetgel 500ml £6.35
Pump
Dispenser
NEWPRODUCT