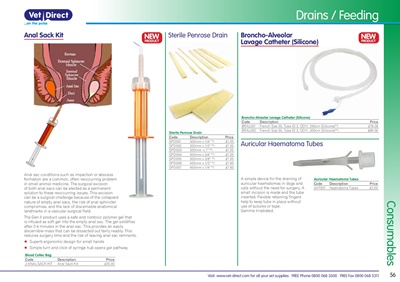 Consumables 56
Visit: www.vet-direct.com for all your vet supplies FREE Phone 0800 068 3300 FREE Fax 0800 068 3311
Drains / Feeding
Sterile Penrose Drain
Blood Collec Bag
Code Description Price
J-ANAL-SACK-KIT Anal Sack Kit £35.00
Sterile Penrose Drain
Code Description Price
SPD001 300mm x 1/4" *1 £1.05
SPD002 300mm x 1/2" *1 £1.05
SPD003 300mm x 1" *1 £1.05
SPD004 300mm x 3/4" *1 £1.05
SPD005 300mm x 3/8" *1 £1.05
SPD006 450mm x 1/2" *1 £1.60
SPD007 450mm x 1/4" *1 £1.60
NEWPRODUCT
Anal Sack Kit
Anal sac conditions such as impaction or abscess
formation are a common, often reoccurring problem
in small animal medicine. The surgical excision
of both anal sacs can be elected as a permanent
solution to these reoccurring issues. This excision
can be a surgical challenge because of the collapsed
nature of empty anal sacs, the risk of anal sphincter
compromise, and the lack of discernable anatomical
landmarks in a vascular surgical field.
The Gen II product uses a safe and nontoxic polymer gel that
is infused as soft gel into the empty anal sac. The gel solidifies
after 2-4 minutes in the anal sac. This provides an easily
discernible mass that can be dissected out fairly readily. This
reduces surgery time and the risk of leaving anal sac remnants.
X Superb ergonomic design for small hands
X Simple turn and click of syringe hub opens gel pathway
Auricular Haematoma Tubes
A simple device for the draining of
auricular haematomas in dogs and
cats without the need for surgery. A
small incision is made and the tube
inserted. Flexible retaining fingers
help to keep tube in place without
use of sutures or tape.
Gamma Irradiated.
Auricular Haematoma Tubes
Code Description Price
AHT001 Haematoma Tubes £2.05
NEWPRODUCT
Broncho-Alveolar Lavage Catheter (Silicone)
Code Description Price
BRAL001 French Size 30, Tube ID 3, OD11, 240cm (Silicone)*1 £78.08
BRAL002 French Size 30, Tube ID 3, OD11, 300cm (Silicone)*1 £86.56
Broncho-Alveolar
Lavage Catheter (Silicone)