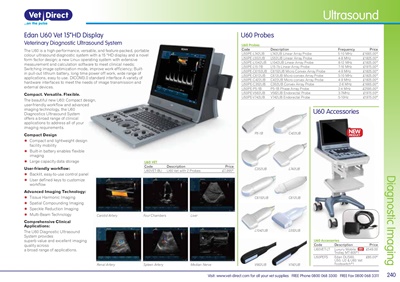 240
Visit: www.vet-direct.com for all your vet supplies FREE Phone 0800 068 3300 FREE Fax 0800 068 3311Diagnostic Imaging
Ultrasound
P5-1B C422UB
C352UB L742UB
V562UB
C6152UB C612UB
L1042UB L552UB
V742UB
Carotid Artery
Renal Artery
Four Chambers
Spleen Artery
Liver
Median Nerve
U60 Accessories
Edan U60 Vet 15"HD Display
Veterinary Diagnostic Ultrasound System
The U60 is a high-performance, versatile, and feature-packed, portable
colour ultrasound diagnostic system with a 15 "HD display and a novel
form factor design; a new Linux operating system with extensive
measurement and calculation software to meet clinical needs;
Switching image optimization mode, improve work efficiency; Builtin
pull-out lithium battery, long time power off work, wide range of
applications, easy to use. DICOM3.0 standard interface A variety of
hardware interfaces to meet the needs of image transmission and
external devices.
Compact. Versatile. Flexible.
The beautiful new U60: Compact design,
user-friendly workflow and advanced
imaging technology, the U60
Diagnostics Ultrasound System
offers a broad range of clinical
applications to address all of your
imaging requirements.
Compact Design
X Compact and lightweight design
facility mobility
X Built-in battery enables flexible
imaging
X Large capacity data storage
User-friendly workflow:
X Backlit, easy-to-use control panel
X User defined keys to customize
workflow
Advanced Imaging Technology:
X Tissue Harmonic Imaging
X Spatial Compounding Imaging
X Speckle Reduction Imaging
X Multi-Beam Technology
Comprehensive Clinical
Applications:
The U60 Diagnostic Ultrasound
System provides
superb value and excellent imaging
quality across
a broad range of applications.
NEWPRODUCT
U60 Accessories
Code Description Price
U60VET-LT Luxury Mobile
Trolley MT-805*1
£549.00
U50PEFS Edan DUS60,
U50, U2 & U60 Vet
Footswitch*1
£85.00*
U60 Probes
U60 VET
Code Description Price
U60VET-BU U60 Vet with 2 Probes £7,995*
U60 Probes
Code Description Frequency Price
U50PE-L742UB L742UB Linear Array Probe 5-10 MHz £1665.00*
U50PE-L552UB L552UB Linear Array Probe 4-8 MHz £1825.00*
U50PE-L1042UB L1042UB Linear Array Probe 8-12 MHz £1825.00*
U50PE-L15-7B L15-7b Linear Array Probe 7-16 MHz £1975.00*
U50PE-C6152UB C6152UB Micro Convex Array Probe 4-9 MHz £1825.00*
U50PE-C612UB C612UB Micro-convex Array Probe 5-10 MHz £1825.00*
U50PE-C422UB C422UB Micro-convex Array Probe 4-9 MHz £1825.00*
U50PE-C352UB C352UB Convex Array Probe 2-6 MHz £1665.00*
U50PE-P5-1B P5-1B Phase Array Probe 2-4 MHz £2595.00*
U50PE-V562UB V562UB Endorectal Probe 3-7MHz £1975.00*
U50PE-V742UB V742UB Endorectal Probe 5-10Hz £1975.00*
NEWPRODUCT