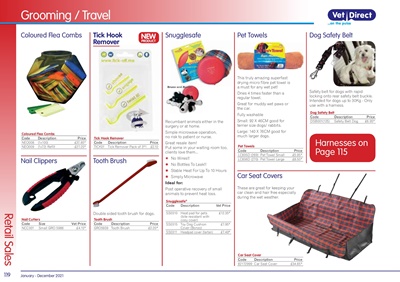 119Retail Sales January - December 2021
Grooming / Travel
Coloured Flea Combs
This truly amazing superfast
drying micro fibre pet towel is
a must for any wet pet!
Dries 4 times faster than a
regular towel.
Great for muddy wet paws or
the car.
Fully washable
Small: 92 X 46CM good for
terrier size dogs/ rabbits.
Large: 140 X 76CM good for
much larger dogs.
Pet Towels
Tick Hook
Remover
Nail Clippers Tooth Brush
Coloured Flea Combs
Code Description Price
NEO008 (1x100) £37.85*
NEO009 (1x72) Refill £27.25*
Tick Hook Remover
Code Description Price
TICK01 Tick Remover Pack of 3*1 £2.10
Nail Cutters
Code Size Vet Price
NCC001 Small GRO 5986 £4.15*
Double sided tooth brush for dogs.
Tooth Brush
Code Description Price
GRO5939 Tooth Brush £2.20*
Pet Towels
Code Description Price
LC605D (269) Pet Towel Small £5.95*
LC606D (270) Pet Towel Large £8.50*
Car Seat Covers
These are great for keeping your
car clean and hair free especially
during the wet weather.
Dog Safety Belt
Safety belt for dogs with rapid
locking onto rear safety belt buckle.
Intended for dogs up to 30Kg - Only
use with a harness.
Car Seat Cover
Code Description Price
82172999 Car Seat Cover £34.65*
Dog Safety Belt
Code Description Price
DSB001(125) Safety Belt Dog £6.95*
Harnesses on
Page 115
NEWPRODUCT
Recumbant animals either in the
surgery or at home.
Simple microwave operation,
no risk to patient or nurse.
Great resale item!
Put some in your waiting room too,
clients love them...
W No Wires!!
X No Bottles To Leak!!
X Stable Heat For Up To 10 Hours
X Simply Microwave
Ideal for:
Post operative recovery of small
animals to prevent heat loss.
Snugglesafe
Snugglesafe®
Code Description Vet Price
SS0310 Heat pad for pets
(bite resistant with
cosy cover)
£12.35*
SS0315 Toy Dog Cushion
Cover (Bonzo)
£7.95*
SS0311 Headpad cover (tartan) £7.49*