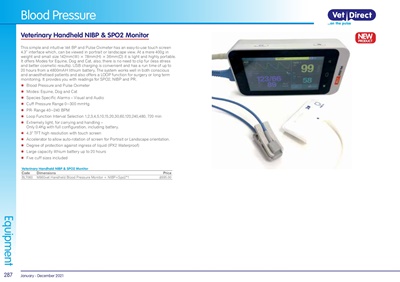 287Equipment January - December 2021
Blood Pressure
NEWPRODUCT
Veterinary Handheld NIBP & SPO2 Monitor
Code Dimensions Price
BLT060 M860vet Handheld Blood Pressure Monitor + NIBP+Spo2*1 £695.00
Veterinary Handheld NIBP & SPO2 Monitor
This simple and intuitive Vet BP and Pulse Oximeter has an easy-to-use touch screen
4.3" interface which, can be viewed in portrait or landscape view. At a mere 400g in
weight and small size 142mm(W) × 78mm(H) × 36mm(D) it is light and highly portable.
It offers Modes for Equine, Dog and Cat, also, there is no need to clip fur (less stress
and better cosmetic results). USB charging is convenient and has a run time of up to
20 hours from a 4800mAH lithium battery. The system works well in both conscious
and anaesthetised patients and also offers a LOOP function for surgery or long term
monitoring. It provides you with readings for SPO2, NIBP and PR.
X Blood Pressure and Pulse Oximeter
X Modes: Equine, Dog and Cat
X Species Specific Alarms - Visual and Audio
X Cuff Pressure Range 0~300 mmHg
X PR- Range 40~240 BPM
X Loop Function Interval Selection 1,2,3,4,5,10,15,20,30,60,120,240,480, 720 min
X Extremely light, for carrying and handling -
Only 0.4Kg with full configuration, including battery.
X 4.3" TFT high resolution with touch screen
X Accelerator to allow auto-rotation of screen for Portrait or Landscape orientation.
X Degree of protection against ingress of liquid (IPX2 Waterproof)
X Large capacity lithium battery up to 20 hours
X Five cuff sizes included