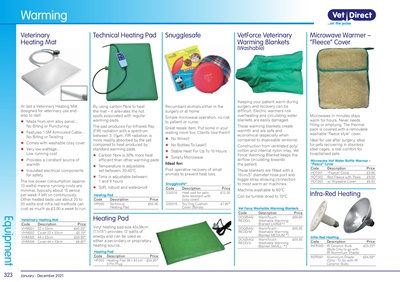 323Equipment January - December 2021
Warming
Technical Heating Pad
By using carbon fibre to heat
the mat - it alleviates the hot
spots associated with regular
warming pads.
The pad produces Far Infrared Ray
(FIR) radiation with a spectrum
between 3 -15µm. FIR radiation is
more readily absorbed by the pet
compared to heat produced by
standard warming pads.
X Carbon fibre is 30% more heat
efficient than other warming pads
X Temperature is adjustable
set between: 30-45°C
X Time is adjustable between:
1 and 9 hours
X Soft, robust and waterproof
Vinyl heating pad size 43x38cm
(17x15") provides 12 watts of
energy and can be used as
either a secondary or proprietary
heating source.
Veterinary
Heating Mat
At last a Veterinary Heating Mat
designed for veterinary use and
also to last!
X Made from slim alloy panel…
No Biting or Puncturing
X Features 1.5M Armoured Cable…
No Biting or Twisting
X Comes with washable cosy cover
X Very low wattage…
Low running cost
X Provides a constant source of
warmth
X Insulated electrical components
for safety
The low power consumption (approx
10 watts) means running costs are
minimal, typically about 15 pence
per week if left on continuously.
Other heated beds use about 20 to
30 watts and infra red methods can
cost as much as £3.00 a week to run.
Veterinary Heating Mat
Code Description Price
VHM001 22 x 33cm £45.25*
VHM002 Cover 22 x 33cm £5.15*
VHM005 44 x 33cm £59.95*
VHM006 Cover 44 x 33cm £6.85*
Heating Pad
Code Description Price
HP060 Technical
Heating Pad
£52.95
Heating Pad
Code Description Price
HP050 Heating Pad 38 x 43 cm
3 Pin Plug
£54.95*
Microwave Warmer -
"Fleece" Cover
Microwaves in minutes stays
warm for hours. Never needs
filling or emptying. The thermal
pack is covered with a removable
washable "fleece style" cover.
Ideal for use after surgery, ideal
for pets recovering in stainless
steel cages, a real comfort for
hospitalised pets.
Infra-Red Heating
Snugglesafe
Recumbant animals either in the
surgery or at home.
Simple microwave operation, no risk
to patient or nurse.
Great resale item. Put some in your
waiting room too, Clients love them!!
X No Wires!!
X No Bottles To Leak!!
X Stable Heat For Up To 10 Hours
X Simply Microwave
Ideal for:
Post operative recovery of small
animals to prevent heat loss.
VetForce Veterinary
Warming Blankets
(Washable)
Keeping your patient warm during
surgery and recovery can be
difficult. Electric warmers risk
overheating and circulating water
blankets are easily damaged.
These warming blankets create
warmth and are safe and
economical (especially when
compared to disposable versions).
Construction from ventilated poly/
cotton and internal nylon inlay, Vet
Force Warming Blanket keeps the
airflow circulating towards
the patient.
These blankets are fitted with a
15cm/5" diameter hose port and
toggle strap allowing connection
to most warm air machines.
Machine washable to 60°C
Can be tumble dried to 70°C
Vet Force Washable Warming Blankets
Code Description Price
DOGBAG/
REDD/L
WarmTouch -
Washable Warming
Blanket LARGE*1
£69.95
DOGBAG/
REDD/M
WarmTouch -
Washable Warming
Blanket MEDIUM *1 £65.95
DOGBAG/
REDD/S
WarmTouch -
Washable Warming
Blanket SMALL *1
£59.95
Infra-Red Heating
Code Description Price
INFR002 IR Ceramic Bulb
(Bulb Only to go with
IR Aluminium Shade)
£23.25*
INFR001 Aluminium Shade
(Only - To Go with IR
Ceramic Bulb)
£54.99*
Snugglesafe®
Code Description Price
SS0310 Heat pad for pets
(bite resistant with
cosy cover)
£12.35
SS0315 Toy Dog Cushion
Cover (Bonzo)
£7.95*
Microwave Hot Water Bottle Warmer -
"Fleece" Cover
Code Description Price
HOT001 "Fleece" Cover £9.95
HOT002 Red Fleece with Paws £9.55
HOT003 w/ Wipeable Cover £9.50
Heating Pad