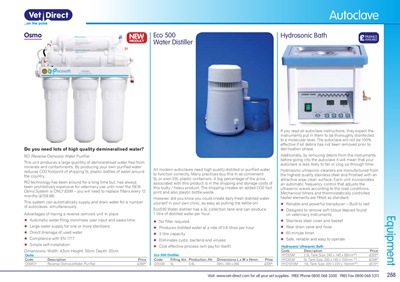 288
Visit: www.vet-direct.com for all your vet supplies FREE Phone 0800 068 3300 FREE Fax 0800 068 3311Equipment
Autoclave
NEWPRODUCT
Eco 500
Water Distiller
Osmo
If you read all autoclave instructions, they expect the
instruments put in them to be thoroughly disinfected
to a molecular level. The autoclave will not be 100%
effective if all debris has not been removed prior to
sterilisation phase.
Additionally, by removing debris from the instruments
before going into the autoclave it will mean that your
autoclave is less likely to fail or clog up through time.
Hydrosonic ultrasonic cleaners are manufactured from
the highest quality stainless steel and finished with an
attractive wipe clean surface. Each unit incorporates
an automatic frequency control that adjusts the
ultrasonic waves according to the load conditions.
Mechanical timers and thermostatically controlled
heater elements are fitted as standard.
X Reliable and powerful transducer - Built to last
X Designed to remove soft tissue deposit found
on veterinary instruments
X Stainless steel cover and basket
X Rear drain valve and hose
X 60 minute timer
X Safe, reliable and easy to operate
X No filter required
X Produces distilled water at a rate of 0.6 litres per hour
X 3 litre capacity
X Eliminates cysts, bacteria and viruses
X Cost effective process (will pay for itself)
Hydrosonic Bath £FINANCE
AVAILABLE
Hydrosonic Ultrasonic Bath
Code Description Price
HYD25M 2.5L Tank Size: 245 x 145 x 85mm*1 £225*
HYD55M 5L Tank Size: 250 x 140 x 150mm *1 £299*
HYD1010M 10L Tank Size: 320 x 220 x 150mm*1 £575*
Osmo
Code Description Price
OSMO1 Reverse OsmosisWater Purifier £399*
Eco 500 Distiller
Code Filling Vol. Production /Hr Dimensions L x W x Hmm Price
DIS500 3L 0.6L 390 x 330 x 266 £225*
All modern autoclaves need high quality distilled or purified water
to function correctly. Many practices buy this in as convenient
5L or even 20L plastic containers. A big percentage of the price
associated with this product is in the shipping and storage costs of
this bulky / heavy product. The shipping creates an added CO2 foot
print and also plastic bottle waste.
However, did you know you could create daily fresh distilled water
yourself in your own clinic, as easy as putting the kettle on!
Eco500 Water distiller has a 3L collection tank and can produce
1 litre of distilled water per hour.
Do you need lots of high quality demineralised water?
RO (Reverse Osmosis) Water Purifier
This unit produces a large quantity of demineralised water free from
minerals and contaminants. By producing your own purified water
reduces CO2 footprint of shipping 5L plastic bottles of water around
the country.
RO technology has been around for a long time but, has always
been prohibitively expensive for veterinary use until now! the NEW
Osmo System is ONLY £399 - you will need to replace filters every 12
months (£159.99)
This system can automatically supply and drain water for a number
of autoclaves, simultaneously.
Advantages of having a reverse osmosis unit in place
X Automatic water filing minimises user input and saves time
X Large water supply for one or more sterilisers
X Direct drainage of used water
X Compliance with EN 1717
X Simple self-installation
Dimensions: Width: 43cm Height: 50cm Depth: 20cm