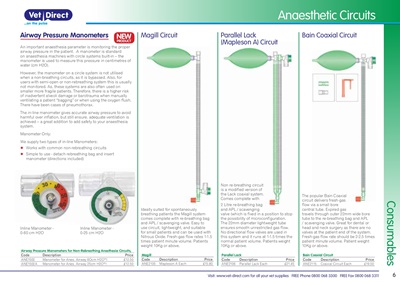 Consumables 6
Visit: www.vet-direct.com for all your vet supplies FREE Phone 0800 068 3300 FREE Fax 0800 068 3311
Anaesthetic Circuits
Magill Circuit
Ideally suited for spontaneously
breathing patients the Magill system
comes complete with re-breathing bag
and APL / scavenging valve. Easy to
use circuit, lightweight, and suitable
for small patients and can be used with
Nitrous Oxide. Fresh-gas flow rates 1-1.5
times patient minute volume. Patients
weight 10Kg or above.
Magill
Code Description Price
ANE2105 Mapleson A Each £15.80
Parallel Lack
(Mapleson A) Circuit
Non re-breathing circuit
is a modified version of
the Lack coaxial system.
Comes complete with
2 Litre re-breathing bag
and APL / scavenging
valve (which is fixed in a position to stop
the possibility of microconfiguration.
The 22mm diameter lightweight tube
ensures smooth unrestricted gas flow.
No directional flow valves are used in
this system and it runs at 1-1.5 times the
normal patient volume. Patients weight
10Kg or above.
Parallel Lack
Code Description Price
ANE2106 Parallel Lack Each £21.45
Bain Coaxial Circuit
The popular Bain Coaxial
circuit delivers fresh-gas
flow via a small bore
central tube. Expired gas
travels through outer 22mm wide bore
tube to the re-breathing bag and APL
/ scavenging valve. Great for dental or
head and neck surgery as there are no
valves at the patient end of the system.
Fresh-gas flow rate should be 2-2.5 times
patient minute volume. Patient weight
10Kg or above.
Bain Coaxial Circuit
Code Description Price
ANE2115 Coaxial Circuit Each £19.50
An important anaesthesia parameter is monitoring the proper
airway pressure in the patient. A manometer is standard
on anaesthesia machines with circle systems built-in - the
manometer is used to measure this pressure in centimetres of
water (cm H2O).
However, the manometer on a circle system is not utilised
when a non-breathing circuits, as it is bypassed. Also, for
users with semi-open or non-rebreathing system this is usually
not monitored. As, these systems are also often used on
smaller more fragile patients. Therefore, there is a higher risk
of inadvertent alveoli damage or barotrauma when manually
ventilating a patient "bagging" or when using the oxygen flush.
There have been cases of pneumothorax.
The in-line manometer gives accurate airway pressure to avoid
harmful over inflation, but still ensure, adequate ventilation is
achieved - a great addition to add safety to your anaesthesia
system.
Manometer Only:
We supply two types of in-line Manometers:
X Works with common non-rebreathing circuits
X Simple to use - detach rebreathing bag and insert
manometer (directions included)
Airway Pressure Manometers
Inline Manometer -
0-60 cm H2O
Inline Manometer -
0-25 cm H2O
Airway Pressure Manometers for Non-Rebreathing Anesthesia Circuits,
Code Description Price
ANE1502 Manometer for Anes. Airway 6Ocm H2O*1 £12.50
ANE1502A Manometer for Anes. Airway 25cm H2O*1 £12.50
NEWPRODUCT