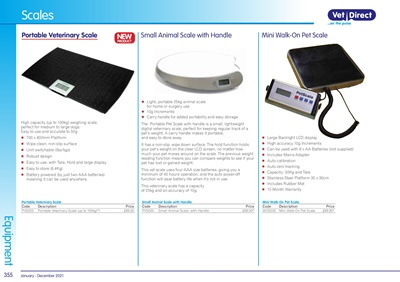 355Equipment January - December 2021
Scales
Portable Veterinary Scale
Code Description Price
PVS003 Portable Veterinary Scale (up to 100kg)*1 £99.00
NEWPRODUCT
X Light, portable 25kg animal scale
for home or surgery use
X 10g Increments
X Carry handle for added portability and easy storage
The Portable Pet Scale with handle is a small, lightweight
digital veterinary scale, perfect for keeping regular track of a
pet's weight. A carry handle makes it portable,
and easy to store away.
It has a non-slip, wipe down surface. The hold function holds
your pet's weight on the clear LCD screen, no matter how
much your pet moves around on the scale. The previous weight
reading function means you can compare weights to see if your
pet has lost or gained weight.
This vet scale uses four AAA size batteries, giving you a
minimum of 40 hours' operation, and the auto power-off
function will save battery life when it's not in use.
This veterinary scale has a capacity
of 25kg and an accuracy of 10g.
Small Animal Scale with Handle
Small Animal Scale with Handle
Code Description Price
PVS002 Small Animal Scale with Handle £99.00*
Portable Veterinary Scale Mini Walk-On Pet Scale
X Large Backlight LCD display
X High accuracy 10g Increments
X Can be used with 6 x AA Batteries (not supplied)
X Includes Mains Adapter
X Auto calibration
X Auto zero tracking
X Capacity: 30Kg and Tare
X Stainless Steel Platform 30 x 30cm
X Includes Rubber Mat
X 12-Month Warranty
Mini Walk-On Pet Scale
Code Description Price
WOS002 Mini Walk-On Pet Scale £99.95*
High capacity (up to 100kg) weighing scale,
perfect for medium to large dogs.
Easy to use and accurate to 50g
X 700 x 400mm Platform
X Wipe clean, non-slip surface
X Unit switchable (lbs/kgs)
X Robust design
X Easy to use, with Tare, Hold and large display
X Easy to store (6.4Kg)
X Battery powered (by just two AAA batteries)
meaning it can be used anywhere.