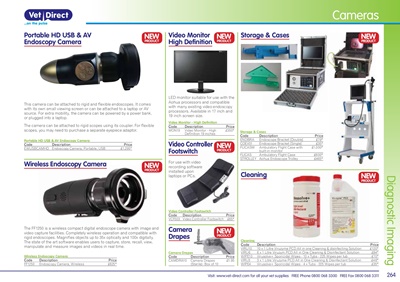 264
Visit: www.vet-direct.com for all your vet supplies FREE Phone 0800 068 3300 FREE Fax 0800 068 3311Diagnostic Imaging
Cameras
Portable HD USB & AV Endoscopy Camera
Code Description Price
EWUSBCAMHD Endoscopy Camera, Portable, USB £1,295*
Video Monitor - High Definition
Code Description Price
MON19 Video Monitor - High
Definition 19 inches
£350*
Video Controller Footswitch
Code Description Price
VCF503 Video Controller Footswitch £65*
Wireless Endoscopy Camera
Code Description Price
FF1250 Endoscopy Camera, Wireless £625*
This camera can be attached to rigid and flexible endoscopes. It comes
with its own small viewing screen or can be attached to a laptop or AV
source. For extra mobility, the camera can be powered by a power bank,
or plugged into a laptop.
The camera can be attached to rigid scopes using its coupler. For flexible
scopes, you may need to purchase a separate eyepiece adaptor.
LED monitor suitable for use with the
Aohua processors and compatible
with many existing video endoscopy
processors. Available in 17 inch and
19 inch screen size.
The FF1250 is a wireless compact digital endoscope camera with image and
video capture facilities. Completely wireless operation and compatible with
rigid endoscopes. Magnifies objects up to 35x optically and 100x digitally.
The state of the art software enables users to capture, store, recall, view,
manipulate and measure images and videos in real time.
Portable HD USB & AV
Endoscopy Camera
Video Monitor
High Definition
Video Controller
Footswitch
Storage & Cases
Wireless Endoscopy Camera
NEWPRODUCT NEWPRODUCT
NEWPRODUCT
NEWPRODUCT
For use with video
recording software
installed upon
laptops or PCs.
Camera Drapes
Code Description Price
CAMDRA10 Camera Drapes
(Sterile)- Box of 10
£1.95
Storage & Cases
Code Description Price
ENDBRA Endoscope Bracket [Double] £79*
COEV01 Endoscope Bracket [Single] £35*
FLICASM Ambulatory Flight Case with
built-in monitor
£1,000*
FLICAS Ambulatory Flight Case £600*
STROLLEY Aohua Endoscope Trolley £465*
Cleaning
Code Description Price
VIRU10 10 x 1 Litre Viruzyme PCD All in one Cleaning & disinfecting Solution £120*
VIRU6 6 x 1 Litre Viruzym PCD All in One Cleaning & Disinfectant Solution £84*
WIPE10 Virusolve+ Sporicidal Wipes - 10 x Tubs - 225 Wipes per tub £70*
VIRU3 3 x 1 Litre Viruzyme PCD All in One Cleaning & Disinfectant Solution £48*
WIPE4 Virusolve+ Sporicidal Wipes - 4 x Tubs - 225 Wipes per tub £35*
Camera
Drapes
NEWPRODUCT
NEWPRODUCT
Cleaning NEWPRODUCT