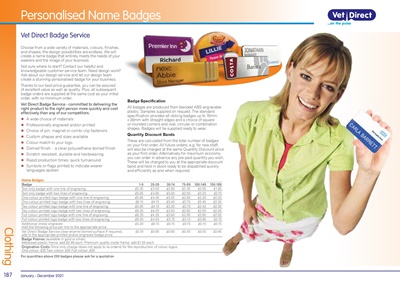 187Clothing January - December 2021
Personalised Name Badges
Choose from a wide variety of materials, colours, finishes,
and shapes; the design possibilities are endless. We will
create a name badge that entirely meets the needs of your
wearers and the image of your business
Not sure where to start? Contact our helpful and
knowledgeable customer service team. Need design work?
Ask about our design service and let our design team
create a stunning personalised badge for your business.
Thanks to our best price guarantee, you can be assured
of excellent value as well as quality. Plus, all subsequent
badge orders are supplied at the same cost as your initial
order, with no minimum order.
Vet Direct Badge Service - committed to delivering the
right product to the right person more quickly and cost
effectively than any of our competitors.
X A wide choice of materials
X Professionally engraved and/or printed
X Choice of pin, magnet or combi clip fasteners
X Custom shapes and sizes available
X Colour match to your logo
X Domed finish - a clear polyurethane domed finish
X Scratch resistant, durable and hardwearing
X Rapid production times, quick turnaround
X Symbols or flags printed to indicate wearer
languages spoken
Vet Direct Badge Service
Badge Specification
All badges are produced from blended ABS engravable
plastic. Samples supplied on request. The standard
specification provides all oblong badges up to 76mm
x 38mm with straight edges and a choice of square
or rounded corners and oval, circular or combination
shapes. Badges will be supplied ready to wear.
Quantity Discount Bands
These are calculated from the total number of badges
on your first order. All future orders, e.g. for new staff,
will also be charged at the same Quantity Discount price
as your first order. Alternatively for maximum economy
you can order in advance any pre-paid quantity you wish.
These will be charged to you at the appropriate discount
band and held in stock ready to be dispatched quickly
and efficiently as and when required.
For quantities above 200 badges please ask for a quotation
Name Badges
Badge 1-9 20-29 30-74 75-99 100-149 150-199
Text only badge with one line of engraving £5.25 £3.50 £2.85 £2.35 £2.05 £1.95
Text only badge with two lines of engraving £5.65 £3.65 £3.00 £2.50 £2.20 £2.10
One colour printed logo badge with one line of engraving £5.85 £4.00 £3.25 £2.60 £2.30 £2.20
One colour printed logo badge with two lines of engraving £6.15 £4.15 £3.40 £2.75 £2.45 £2.35
Two colour printed logo badge with one line of engraving £5.95 £4.10 £3.35 £2.70 £2.40 £2.30
Two colour printed logo badge with two lines of engraving £6.25 £4.25 £3.50 £2.82 £2.55 £2.40
Full colour printed logo badge with one line of engraving £6.20 £4.35 £3.60 £2.95 £2.65 £2.55
Full colour printed logo badge with two lines of engraving £6.50 £4.50 £3.75 £3.10 £2.80 £2.70
Additional line(s) engraved
Add the following price per line to the appropriate price
£0.30 £0.15 £0.15 £0.15 £0.15 £0.15
Vet Direct Badge Service clear enamel domed surface If required,
add to the appropriate printed and/or engraved badge price
£0.70 £0.65 £0.60 £0.55 £0.50 £0.45
Badge Frames (available in gold or silver)
Metalised plastic frame: add £0.99 each. Premium quality metal frame: add £1.55 each
Origination Costs Once only charge (does not apply to re-orders) for the reproduction of colour logos:
One colour: £25 Two colour: £35 Full colour: £55