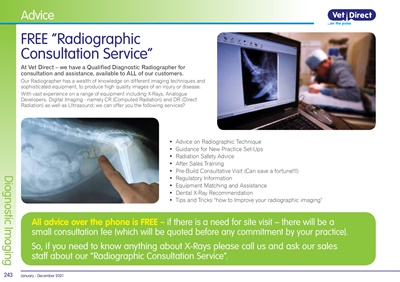 243Diagnostic Imaging January - December 2021
Advice
FREE "Radiographic
Consultation Service"
At Vet Direct - we have a Qualified Diagnostic Radiographer for
consultation and assistance, available to ALL of our customers.
Our Radiographer has a wealth of knowledge on different imaging techniques and
sophisticated equipment, to produce high quality images of an injury or disease.
With vast experience on a range of equipment including X-Rays, Analogue
Developers, Digital Imaging - namely CR (Computed Radiation) and DR (Direct
Radiation) as well as Ultrasound; we can offer you the following services?
All advice over the phone is FREE - if there is a need for site visit - there will be a
small consultation fee (which will be quoted before any commitment by your practice).
So, if you need to know anything about X-Rays please call us and ask our sales
staff about our "Radiographic Consultation Service".
• Advice on Radiographic Technique
• Guidance for New Practice Set-Ups
• Radiation Safety Advice
• After Sales Training
• Pre-Build Consultative Visit (Can save a fortune!!!)
• Regulatory Information
• Equipment Matching and Assistance
• Dental X-Ray Recommendation
• Tips and Tricks "how to Improve your radiographic imaging"