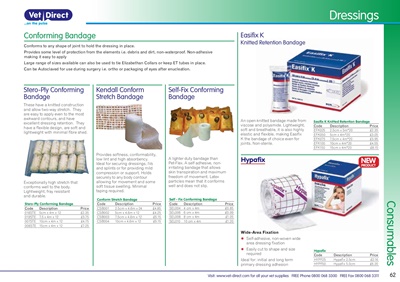 Consumables 62
Visit: www.vet-direct.com for all your vet supplies FREE Phone 0800 068 3300 FREE Fax 0800 068 3311
These have a knitted construction
and allow two-way stretch. They
are easy to apply even to the most
awkward contours, and have
excellent dressing retention. They
have a flexible design, are soft and
lightweight with minimal fibre shed.
Stero-Ply Conforming
Bandage
Exceptionally high stretch that
conforms well to the body.
Lightweight, fray resistant
and durable.
Provides softness, conformability,
low lint and high absorbency.
Ideal for securing dressings, IVs
and splints or for providing mild
compression or support. Holds
securely to any body contour
allowing for movement and some
soft tissue swelling. Minimal
taping required.
Kendall Conform
Stretch Bandage
Conforming Bandage
Conforms to any shape of joint to hold the dressing in place.
Provides some level of protection from the elements i.e. debris and dirt, non-waterproof. Non-adhesive
making it easy to apply
Large range of sizes available can also be used to tie Elizabethan Collars or keep ET tubes in place.
Can be Autoclaved for use during surgery i.e. ortho or packaging of eyes after enucleation.
Stero-Ply Conforming Bandage
Code Description Price
018STE 5cm x 4m x 12 £2.35
019STE 7.5 x 4m x 12 £3.75
007STE 10cm x 4m x 12 £4.75
008STE 15cm x 4m x 12 £7.25
Conform Stretch Bandage
Code Description Price
CSB001 2.5cm x 4.6m x 24 £4.85
CSB002 5cm x 4.6m x 12 £4.25
CSB003 7.5cm x 4.6m x 12 £5.15
CSB004 10cm x 4.6m x 12 £5.15
Easifix K
Knitted Retention Bandage
An open-knitted bandage made from
viscose and polyamide. Lightweight,
soft and breathable, it is also highly
elastic and flexible, making Easifix
K the bandage of choice even for
joints. Non-sterile.
Easifix K Knitted Retention Bandage
Code Description Price
EFK025 2.5cm x 5m*20 £2.35
EFK050 5cm x 4m*20 £3.05
EFK075 7.5cm x 4m*20 £3.95
EFK100 10cm x 4m*20 £4.55
EFK150 15cm x 4m*20 £8.15
A lighter duty bandage than
Pet-Flex. A self adhesive, nonirritating
bandage that allows
skin transpiration and maximum
freedom of movement. Latex
particles mean that it conforms
well and does not slip.
Self-Fix Conforming
Bandage
Self - Fix Conforming Bandage
Code Description Price
SEL004 4 cm x 4m £0.85
SEL006 6 cm x 4m £0.99
SEL008 8 cm x 4m £1.05
SEL010 10 cm x 4m £1.20
Dressings
Hypafix NEWPRODUCT
Hypafix
Code Description Price
HYPF25 Hypafix 2.5cm £2.16
HYPF50 Hypafix 5.0cm £6.20
Wide-Area Fixation
X Self-adhesive, non-woven wide
area dressing fixation
X Easily cut to shape and size
required
Ideal for: initial and long term
primary dressing adhesion