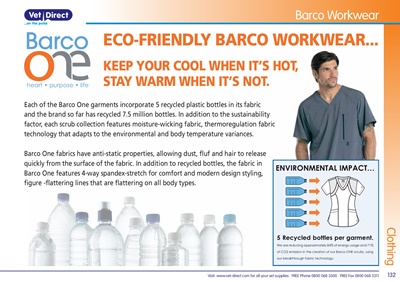 132
Visit: www.vet-direct.com for all your vet supplies FREE Phone 0800 068 3300 FREE Fax 0800 068 3311 Clothing
ECO-FRIENDLY BARCO WORKWEAR...
KEEP YOUR COOL WHEN IT'S HOT,
STAY WARM WHEN IT'S NOT.
Each of the Barco One garments incorporate 5 recycled plastic bottles in its fabric
and the brand so far has recycled 7.5 million bottles. In addition to the sustainability
factor, each scrub collection features moisture-wicking fabric, thermoregulation fabric
technology that adapts to the environmental and body temperature variances.
Barco One fabrics have anti-static properties, allowing dust, fluf and hair to release
quickly from the surface of the fabric. In addition to recycled bottles, the fabric in
Barco One features 4-way spandex-stretch for comfort and modern design styling,
figure -flattering lines that are flattering on all body types.
ENVIRONMENTAL IMPACT…
5 Recycled bottles per garment.
We are reducing approximately 84% of energy usage and 71%
of CO2 emission in the creation of our Barco ONE scrubs, using
our breakthrough fabric technology.
BARCO Uniforms. Gardena, California
50% Poly / 43% Recycled Poly / 5% Spandex
Made in Vietnam
RN 50681
CA 14261
S
heart • purpose • life
Barco Workwear