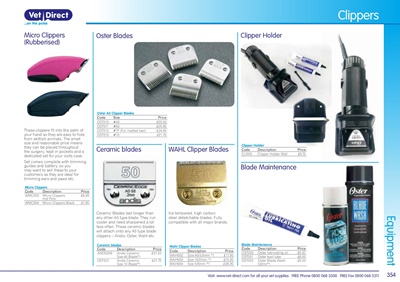 354
Visit: www.vet-direct.com for all your vet supplies FREE Phone 0800 068 3300 FREE Fax 0800 068 3311Equipment
Clippers
These clippers fit into the palm of
your hand so they are easy to hide
from skittish animals. The small
size and reasonable price means
they can be placed throughout
the surgery, kept in pockets and a
dedicated set for your visits case.
Set comes complete with trimming
guides and battery, so you
may want to sell these to your
customers as they are ideal for
trimming ears and paws etc.
Micro Clippers
(Rubberised)
Micro Clippers
Code Description Price
WMC003 Micro Clippers
Hot Pink
£8.99
WMC004 Micro Clippers Black £7.95
Clipper Holder
Blade Maintenance
Clipper Holder
Code Description Price
CLI003 Clipper Holder Wall £9.75
Blade Maintenance
Code Description Price
OST020 Oster lubricating oil £5.67
OST021 Oster kool lube £6.50
OST022 Oster Blade Wash
532ml*1
£5.20
Ceramic blades
Ceramic Blades last longer than
any other A5 type blade. They run
cooler and need sharpened a lot
less often. These ceramic blades
will attach onto any A5 type blade
clippers - Andis, Oster, Wahl etc.
Oster Blades
Oster A5 Clipper Blades
Code Size Price
OST010 #40 £25.50
OST011 #50 £25.95
OST012 #7F (For matted hair) £24.95
OST013 #10 £21.75 Ice tempered, high carbon
steel detatchable blades. Fully
compatible with all major brands.
WAHL Clipper Blades
Wahl Clipper Blades
Code Description Price
WAH002 Size 40/0.6mm *1 £17.95
WAH003 Size 10/2mm *1 £15.95
WAH004 Size 5/6mm *1 £28.95
Ceramic blades
Code Description Price
ANDS009 Andis Ceramic
Size 40 Blade*1
£37.50
OST013 Andis Ceramic
Size 10 Blade*1
£21.75