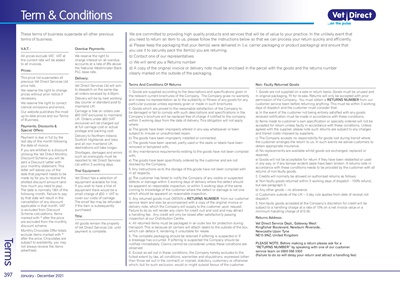 Terms
Term & Conditions
We are committed to providing high quality products and services that will be of value to your practice. In the unlikely event that
you need to return an item to us, please follow the instructions below so that we can process your return quickly and efficiently.
a) Please keep the packaging that your item(s) were delivered in (i.e. carrier packaging or product packaging) and ensure that
you use it to securely pack the item(s) you are returning.
b) Contact one of our representatives
c) We will send you a Returns number
d) A copy of the original invoice or delivery note must be enclosed in the parcel with the goods and the returns number
clearly marked on the outside of the packaging.
V.A.T. :
All prices exclude VAT. VAT at
the current rate will be added
to all invoices.
Prices:
This price list supersedes all
previous Vet Direct Services Ltd
price lists.
We reserve the right to change
prices without prior notice if
necessary.
We reserve the right to correct
clerical omissions and errors.
Our website publishes the most
up-to-date prices and our Terms
of Business.
Payments, Discounts &
Special Offers:
Payment is due in full by the
last day of the month following
the date of invoice.
If you are entitled to a discount
utilising the Vet Direct Monthly
Discount Scheme you will be
sent a Discount Letter with
your monthly statement. This
letter will advise you of the
date that payment needs to be
made by for you to receive the
allotted discount amount (and
how much you need to pay).
The date is normally 18th of the
following month. Failure to pay
by that date will result in the
cancellation of any discount
applicable in that month. VAT
is excluded from Discount
Scheme calculations. Items
marked with * after the price
are excluded from the monthly
discount scheme.
Monthly Chocolate Offer totals
exclude items marked with *
after the price. Chocolates are
subject to availability, you may
not always receive the items
advertised.
Overdue Payments:
We reserve the right to
charge interest on all overdue
accounts at a rate of 8% above
the National Westminster Bank
PLC base rate.
Delivery:
Vet Direct Services Ltd will aim
to despatch on the same day
all orders received by 4.00pm.
Delivery will be by next working
day courier or standard post to
mainland UK.
Carriage is free on orders over
£60 (VAT exclusive) to mainland
UK Orders under £60 (VAT
exclusive) will be charged out
at full carriage cost or actual
postage and packing cost.
Delivery to Northern Ireland,
Scottish Highlands and Isles
and all non mainland UK
destinations will take longer.
Shortages, damages and errors
such as oversupply must be
reported to Vet Direct Services
Ltd within 3 working days.
Trial Equipment:
Vet Direct has a selection of
equipment available for trial.
If you wish to have a trial of
equipment there would be a
small charge of £50 + VAT to
cover our costs of carriage.
The small fee may be refunded
if the item is subsequently
purchased.
Title:
All goods remain the property
of Vet Direct Services Ltd. until
payment is complete.
Terms And Conditions Of Returns
1. Goods are supplied according to the descriptions and specifications given in
the relevant current brochures of the Company. The Company gives no warranty
and makes no representation as to the suitability or fitness of any goods for any
particular purpose unless expressly given or made in such brochures
2. Goods which are proved to the reasonable satisfaction of the Company to
be damaged or fail to comply with such descriptions and specifications in the
Company's brochure will be replaced free of charge if notified to the company
within 3 working days from the date of delivery. This obligation will not apply
where:
a) The goods have been improperly altered in any way whatsoever or been
subject to misuse or unauthorised repair,
b) The goods have been improperly installed or connected,
c) The goods have been opened, partly used or the seals or labels have been
removed or tampered with,
d) Any maintenance requirements relating to the goods have not been complied
with,
e) The goods have been specifically ordered by the customer and are not
stocked by the Company,
f) Any instructions as to the storage of the goods have not been complied with
in all respects,
g) The customer has failed to notify the Company of any visible or suspected
defects or damage within 3 working days of delivery where the defect should
be apparent on reasonable inspection, or within 5 working days of the same
coming to knowledge of the customer where the defect or damage is not one
which should be apparent on reasonable inspection.
3. Any returned goods must OBTAIN a RETURNS NUMBER from our customer
service team and also be accompanied with a copy of the original invoice or
delivery note, which the Company will supply to the customer upon request.
Failure to do so will render any claim for credit null and void and may attract
a handling fee. Any credit will only be raised after satisfactorily passing
inspection at our Distribution Centre.
4. All returned items must be packaged in an outer box for protection during
transport. This is because all carriers will attach labels to the outside of the box,
which can deface it, rendering it unsuitable for resale.
5. The complete packaging should be retained if pilfering is suspected or if
a breakage has occurred. If pilfering is suspected the Company should be
notified immediately. Claims cannot be considered unless these conditions are
observed.
6. Except as set out in these conditions, the Company hereby excludes to the
fullest extent by law, all conditions, warranties and stipulations, expressed (other
than those set out in the contract) or implied, statutory, customary or otherwise
which, but for such exclusion, would or might subsist favour of the customer.
Non- Faulty Returned Goods
1. Goods are not supplied on a sale or return basis. Goods must be unused and
in original packaging, fit for re-sale. Returns will only be accepted with prior
permission of the Company. You must obtain a RETURNS NUMBER from our
customer service team before returning anything. This must be within 3 working
days of dispatch and the customer must consider that:
a) In the event of the customer not being entirely satisfied with any goods
received notification must be made in accordance with these conditions,
b) Items made to customer's own specification or specially ordered will not be
accepted for return unless faulty in accordance with these conditions. Unless
agreed with the supplier, please note such returns are subject to any charges
and transit costs imposed by suppliers,
c) The Company accepts no responsibility for goods lost during transit where
the customer arranges the return to us. In such events we advise customers to
obtain appropriate insurance,
d) No replacements are available whilst goods are exchanged, replaced or
repaired,
e) Goods will not be acceptable for return if they have been relabelled or used
in any way, or if any tamper evident seals have been broken. A returns note in
accordance with these conditions needs to be provided by the customer with all
returns of non-faulty goods,
2. Credits will normally be allowed on authorised returns as follows:
a) Non-faulty goods returned within 3 working days of dispatch - 100% refund,
but see paragraph 3
b) Any other goods - no allowance
c) Customers outside of the UK - 3 day rule applies from date of receipt not
dispatch
3. Non-faulty goods accepted at the Company's discretion for credit will be
subject to a handling charge at a rate of 15% on a net invoice value or a
minimum handling charge of £10.00.
Returns Address:
Vet Direct Service Dept., Gateway West
Kingfisher Boulevard, Newburn Riverside,
Newcastle Upon Tyne
NE15 8NZ, United Kingdom
PLEASE NOTE: Before making a return please ask for a
"RETURNS NUMBER" by speaking with one of our customer
service team on 0800 068 3300
(Failure to do so will delay your return and attract a handling fee)
These terms of business supersede all other previous
terms of business.
397 January - December 2021