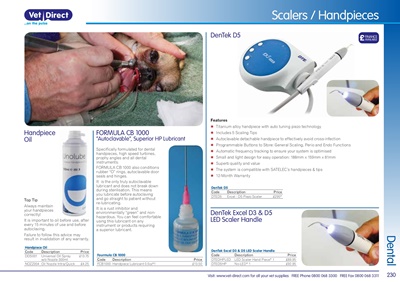 230
Visit: www.vet-direct.com for all your vet supplies FREE Phone 0800 068 3300 FREE Fax 0800 068 3311 Dental
Scalers / Handpieces
FORMULA CB 1000
"Autoclavable", Superior HP Lubricant
Specifically formulated for dental
handpieces, high speed turbines,
prophy angles and all dental
instruments.
FORMULA CB 1000 also conditions
rubber "O" rings, autoclavable door
seals and hinges.
It is the only truly autoclavable
lubricant and does not break down
during sterilisation. This means
you lubricate before autoclaving
and go straight to patient without
re-lubricating.
It is a rust inhibitor and
environmentally "green" and nonhazardous.
You can feel comfortable
using this lubricant on any
instrument or products requiring
a superior lubricant.
Fourmula CB 1000
Code Description Price
FCB1000 Handpiece Lubricant 0.5oz*1 £13.50
Top Tip
Always maintain
your handpieces
correctly!
It is important to oil before use, after
every 15 minutes of use and before
autoclaving.
Failure to follow this advice may
result in invalidation of any warranty.
Handpiece
Oil
Handpiece Oil
Code Description Price
DDS001 Universal Oil Spray
w/o Nozzle 300ml
£13.75
NOZZ004 Oil Nozzle Intra/Quick £4.25
Features
X Titanium alloy handpiece with auto tuning piezo technology
X Includes 5 Scaling Tips
X Autoclavable detachable handpiece to effectively avoid cross-infection
X Programmable Buttons to Store: General Scaling, Perio and Endo Functions
X Automatic frequency tracking to ensure your system is optimised
X Small and light design for easy operation: 188mm x 159mm x 81mm
X Superb quality and value
X The system is compatible with SATELEC's handpieces & tips
X 12-Month Warranty
DenTek D5 £FINANCE
AVAILABLE
DenTek D5
Code Description Price
DTED5 Excel - D5 Piezo Scaler £295*
DenTek Excel D3 & D5
LED Scaler Handle
DenTek Excel D3 & D5 LED Scaler Handle
Code Description Price
DTEDHPLED LED Scaler Hand Piece* 1 £89.95
DTED5HP No-LED* 1 £92.95