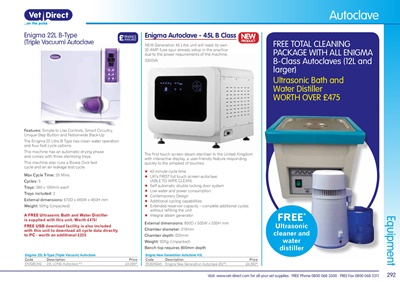 292
Visit: www.vet-direct.com for all your vet supplies FREE Phone 0800 068 3300 FREE Fax 0800 068 3311Equipment
Autoclave
Enigna New Generation Autoclave 45L
Code Description Price
ENIGNG45 Enigna New Generation Autoclave 45L*1 £4,850*
NEWPRODUCT
Enigma Autoclave - 45L B Class
X 40 minute cycle time
X UK's FIRST full touch screen autoclave
(ABLE TO WIPE CLEAN)
X Self automatic double locking door system
X Low water and power consumption
X Contemporary Design
X Additional cycling capabilities
X Extended reservoir capacity - complete additional cycles
without refilling the unit
X Integral steam generator
The first touch screen steam steriliser in the United Kingdom
with interactive display, a user-friendly feature responding
quickly to the simplest of touches.
NEW Generation 45 Litre unit will need its own
32 AMP fuse spur already setup in the practice
due to the power requirements of the machine.
3300VA
FREE TOTAL CLEANING
PACKAGE WITH ALL ENIGMA
B-Class Autoclaves (12L and
larger)
Ultrasonic Bath and
Water Distiller
WORTH OVER £475
FREE*
Ultrasonic
cleaner and
water
distiller
Enigma 22L B-Type
(Triple Vacuum) Autoclave
Features: Simple to Use Controls, Smart Circuitry,
Unique Step Button and Nationwide Back-Up
The Enigma 22 Litre B Type has clean water operation
and four fast cycle options.
This machine has an automatic drying phase
and comes with three sterilising trays.
This machine also runs a Bowie Dick test
cycle and an air leakage test cycle.
Max Cycle Time: 25 Mins
Cycles: 5
Trays: 380 x 190mm each
Trays included: 3
External dimensions: 670D x 460W x 450H mm
Weight: 50Kg (Unpacked)
A FREE Ultrasonic Bath and Water Distiller
is supplied with this unit. Worth £475!
FREE USB download facility is also included
with this unit to download all cycle data directly
to PC - worth an additional £225
External dimensions: 850D x 505W x 535H mm
Chamber diameter: 319mm
Chamber depth: 620mm
Weight: 92Kg (Unpacked)
Bench top requires 800mm depth
£FINANCE
AVAILABLE
Enigma 22L B-Type (Triple Vacuum) Autoclave
Code Description Price
ENIGBLNG 22L LONG Autoclave *1 £3,099*