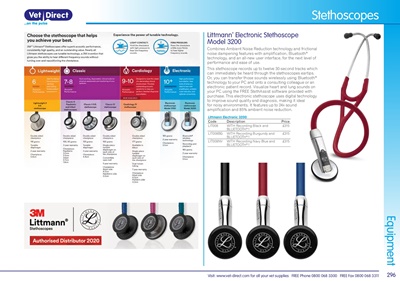 296
Visit: www.vet-direct.com for all your vet supplies FREE Phone 0800 068 3300 FREE Fax 0800 068 3311Equipment
Stethoscopes
Littmann® Electronic Stethoscope
Model 3200
Combines Ambient Noise Reduction technology and frictional
noise dampening features with amplification, Bluetooth®
technology, and an all-new user interface, for the next level of
performance and ease of use.
This stethoscope records up to twelve 30-second tracks which
can immediately be heard through the stethoscopes eartips.
Or, you can transfer those sounds wirelessly using Bluetooth®
technology to your PC and onto a consulting colleague or an
electronic patient record. Visualize heart and lung sounds on
your PC using the FREE StethAssist software provided with
purchase. This electronic stethoscope uses digital technology
to improve sound quality and diagnosis, making it ideal
for noisy environments. It features up to 24x sound
amplification and 85% ambient noise reduction.
Littmann Electronic 3200
Code Description Price
LIT008 WITH Recording Black and
BLUETOOTH*1
£315
LIT008BG WITH Recording Burgundy and
BLUETOOTH*1
£315
LIT008NV WITH Recording Navy Blue and
BLUETOOTH*1
£315