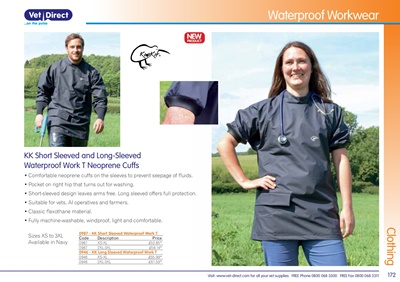 172
Visit: www.vet-direct.com for all your vet supplies FREE Phone 0800 068 3300 FREE Fax 0800 068 3311 Clothing
KK Short Sleeved and Long-Sleeved
Waterproof Work T Neoprene Cuffs
• Comfortable neoprene cuffs on the sleeves to prevent seepage of fluids.
• Pocket on right hip that turns out for washing.
• Short-sleeved design leaves arms free. Long sleeved offers full protection.
• Suitable for vets, AI operatives and farmers.
• Classic flexothane material.
• Fully machine-washable, windproof, light and comfortable.
Sizes XS to 3XL
Available in Navy
Waterproof Workwear
0987 - KK Short Sleeved Waterproof Work T
Code Description Price
0987 XS-XL £52.85*
0987 2XL-3XL £58.14*
0946 - KK Long Sleeved Waterproof Work T
0946 XS-XL £55.99*
0946 2XL-3XL £61.59*
NEWPRODUCT