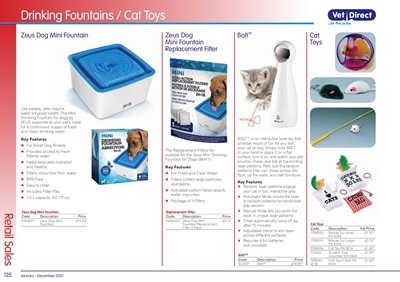 125Retail Sales January - December 2021
Drinking Fountains / Cat Toys
Zeus Dog Mini Fountain Zeus Dog
Mini Fountain
Replacement Filter
Zeus Dog Mini Fountain
Code Description Price
HA96411 Zeus Dog Mini
Fountain
£10.80
Replacement Filter
Code Description Price
HA96412 Zeus Dog Mini
Fountain Replacement
Filter 3 Pack
£2.70
Like people, pets require
water for good health. The Mini
Drinking Fountain for dogs by
ZEUS responds to your pet's need
for a continuous supply of fresh
and clean drinking water.
Key Features
X For Small Dog Breeds
X Provides access to fresh,
filtered water
X Helps keep pets hydrated
and healthy
X Filters impurities from water
X BPA Free
X Easy to clean
X Includes Filter Pad
X 1.5 L capacity (50.7 fl oz)
The Replacement Filters for
suitable for the Zeus Mini Drinking
Fountain for Dogs (96411).
Key Features
X For Fresh and Clear Water
X Filters collect large particles
and debris
X Activated carbon helps absorb
water impurities
X Package of 3 filters.
BOLT™ is an interactive laser toy that
provides hours of fun for you and
your cat or dog. Simply hold BOLT
in your hand or place it on a flat
surface, turn it on, and watch your pet
pounce, chase, and bat at the exciting
laser patterns. Pets love the random
patterns they can chase across the
floor, up the walls, and over furniture.
Key Features
W Random laser patterns engage
your cat in fun, interactive play
W Automatic Mode moves the laser
in random patterns for hands-free
play session
W Manual Mode lets you point the
laser in unique laser patterns
W Timer automatically turns off toy
after 15 minutes
W Adjustable mirror to aim laser
across different surfaces
W Requires 4 AA batteries
(not included)
Bolt™ Cat
Toys
Cat Toys
Code Description Vet Price
FRM002 Mouse Fur small
PA 5004
£1.50*
FRM003 Mouse Fur Large
PA 5006
£2.70*
FRM004 Cat Toy PA 5214 £1.85*
STA001 Scratch Toys
Assorted SIN 5602
£1.30*
SRB001
(218)
Soft Sport Ball PA
6040
£1.95*
Bolt™
Code Description Price
BLT001 Bolt™ £18.95*