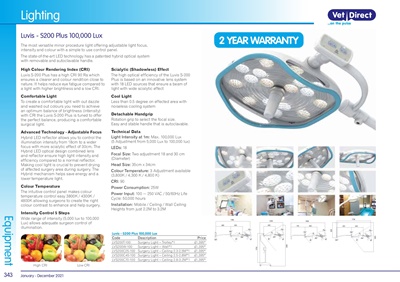 343Equipment January - December 2021
Lighting
High Colour Rendering Index (CRI)
Luvis S-200 Plus has a high CRI 90 Ra which
ensures a clearer and colour rendition close to
nature. It helps reduce eye fatigue compared to
a light with higher brightness and a low CRI.
Comfortable Light
To create a comfortable light with out dazzle
and washed out colours you need to achieve
an optimum balance of brightness (intensity)
with CRI the Luvis S-200 Plus is tuned to offer
the perfect balance, producing a comfortable
surgical light.
Advanced Technology - Adjustable Focus
Hybrid LED reflector allows you to control the
illumination intensity from 18cm to a wider
focus with more scialytic effect of 30cm. The
Hybrid LED optical design combined lens
and reflector ensure high light intensity and
efficiency compared to a normal reflector.
Making cool light is crucial to prevent drying
of affected surgery area during surgery. The
Hybrid mechanism helps save energy and a
lower temperature light.
Colour Temperature
The intuitive control panel makes colour
temperature control easy 3800K / 4300K /
4800K allowing surgeons to create the right
colour contrast to enhance and help surgery.
Intensity Control 5 Steps
Wide range of intensity (5,000 lux to 100,000
Lux) allows adequate surgeon control of
illumination.
Scialytic (Shadowless) Effect
The high optical efficiency of the Luvis S-200
Plus is based on an innovative lens system
with 18 LED sources that ensure a beam of
light with wide scialytic effect
Cool Light
Less than 0.5 degree on effected area with
noiseless cooling system
Detachable Handgrip
Rotation grip to select the focal size.
Easy and stable handle that is autoclavable.
Technical Data
Light Intensity at 1m: Max. 100,000 Lux
(5 Adjustment from 5,000 Lux to 100,000 lux)
LEDs: 18
Focal Size: Two adjustment 18 and 30 cm
(Diameter)
Head Size: 35cm x 34cm
Colour Temperature: 3 Adjustment available
(3,800K / 4,300 K / 4,800 K)
CRI: 90
Power Consumption: 25W
Power Input: 100 ~ 250 VAC / 50/60Hz Life
Cycle: 50,000 hours
Installation: Mobile / Ceiling / Wall Ceiling
Heights from just 2.2M to 3.2M
Luvis - S200 Plus 100,000 Lux
Code Description Price
LVS200T-100 Surgery Light - Trolley*1 £1,395*
LVS200W-100 Surgery Light - Wall*1 £1,395*
LVS200C25-100 Surgery Light - Ceiling 2.3-2.5M*1 £1,395*
LVS200C45-100 Surgery Light - Ceiling 2.5-2.8M*1 £1,395*
LVS200C70-100 Surgery Light - Ceiling 2.8-3.2M*1 £1,395*
Luvis - S200 Plus 100,000 Lux
The most versatile minor procedure light offering adjustable light focus,
intensity and colour with a simple to use control panel.
The state-of-the-art LED technology has a patented hybrid optical system
with removable and autoclavable handle.
High CRI Low CRI
2 YEAR WARRANTY