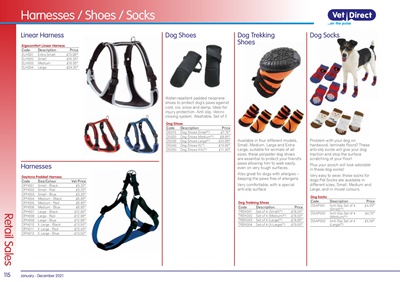 115Retail Sales January - December 2021
Harnesses / Shoes / Socks Dog Shoes
Water-repellent padded neoprene
shoes to protect dog's paws against
cold, ice, snow and damp. Ideal for
injury protection. Anti slip. Velcro
closing system. Washable. Set of 2
Dog Shoes
Code Description Price
DS010 Dog Shoes Small*1 £7.75*
DS020 Dog Shoes Medium*1 £8.95*
DS030 Dog Shoes Large*1 £10.99*
DS040 Dog Shoes XL*1 £10.95*
DS050 Dog Shoes XXL*1 £11.30*
Dog Trekking
Shoes
Dog Socks
Available in four different models,
Small, Medium, Large and Extra
Large, suitable for animals of all
sizes, these polyester dog shoes
are essential to protect your friend's
paws allowing him to walk easily,
even on very tough surfaces.
Also great for dogs with allergies -
keeping the paws free of allergens
Very comfortable, with a special
anti-slip surface
Problem with your dog on
hardwood, laminate floors? These
anti-slip socks will give your dog
traction and stop the surface
scratching of your floor!
Plus your pooch will look adorable
in these dog socks!
Very easy to wear, these socks for
dogs Pet Socks are available in
different sizes, Small, Medium and
Large, and in mixed colours.
Dog Trekking Shoes
Code Description Price
TREK001 Set of 4 (Small)*1 £18.20*
TREK002 Set of 4 (Medium)*1 £18.50*
TREK003 Set of 4 (Large)*1 £18.95*
TREK004 Set of 4 (X-Large)*1 £19.50*
Dog Socks
Code Description Price
DSAP001 Anti-Slip Set of 4
(Small)*1
£4.25*
DSAP002 Anti-Slip Set of 4
(Medium)*1
£4.75*
DSAP003 Anti-Slip Set of 4
(Large)*1
£5.05*
Harnesses
Linear Harness
Daytona Padded Harness
Code Size/Colour Vet Price
DPH001 Small - Black £5.25*
DPH002 Small - Red £5.25*
DPH003 Small - Blue £5.25*
DPH004 Medium - Black £6.85*
DPH005 Medium - Red £6.85*
DPH006 Medium - Blue £6.85*
DPH007 Large - Black £12.99*
DPH008 Large - Red £12.99*
DPH009 Large - Blue £12.99*
DPH010 X Large - Black £13.50*
DPH011 X Large - Red £13.45*
DPH012 X Large - Blue £13.50*
Ergocomfort Linear Harness
Code Description Price
ELH001 Extra Small £15.99*
ELH002 Small £16.35*
ELH003 Medium £16.95*
ELH004 Large £24.35*