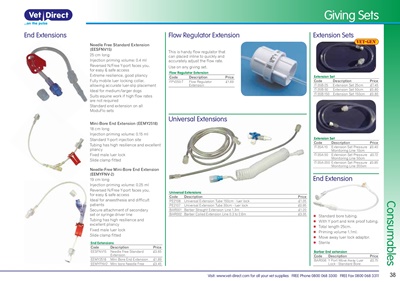 Consumables 38
Visit: www.vet-direct.com for all your vet supplies FREE Phone 0800 068 3300 FREE Fax 0800 068 3311
Giving Sets
Extension Sets ®
Vet-Gen
Extension Set
Code Description Price
IT-35B-25 Extension Set 25cm £7.45
IT-35B-50 Extension Set 50cm £0.80
IT-35B-150 Extension Set 150cm £0.80
Extension Set
Code Description Price
IT-35A-10 Extension Set Pressure
Monitoring Line 10cm
£0.40
IT-35A-50 Extension Set Pressure
Monitoring Line 50cm
£0.72
IT-35A-200 Extension Set Pressure
Monitoring Line 200xm £0.85
Universal Extensions
End Extension
X Standard bore tubing.
X With Y port and kink proof tubing.
X Total length 25cm.
X Priming volume 1.1ml.
X Move away luer lock adaptor.
X Sterile
Universal Extensions
Code Description Price
PE2108 Universal Extension Tube 150cm - luer lock £1.05
PE2107 Universal Extension Tube 30cm - luer lock £0.95
BAR001 Barber Straight Extension Line 1.3m £1.20
BAR002 Barber Coiled Extension Line 0.3 to 2.6m £3.35
Barber End extension
Code Description Price
BAR006 Y Port Move Away Luer
Lock - Standard Bore
£0.75
Flow Regulator Extension
This is handy flow regulator that
can placed inline to quickly and
accurately adjust the flow rate.
Use on any giving set.
Flow Regulator Extension
Code Description Price
FPV250-T Flow Regulator
Extension
£1.69
Needle Free Standard Extension
(EESFNV15)
25 cm long
Injection priming volume: 0.4 ml
Reversed N/Free Y-port faces you,
for easy & safe access
Extreme resilience, good pliancy
Fully mobile luer locking collar,
allowing accurate luer-slip placement
Ideal for medium/larger dogs
Suits equine work if high flow rates
are not required
Standard end extension on all
ModuFlo sets
End Extensions
Mini-Bore End Extension (EEMY2518)
18 cm long
Injection priming volume: 0.15 ml
Standard Y-port injection site
Tubing has high resilience and excellent
pliancy
Fixed male luer lock
Slide clamp fitted
Needle-Free Mini-Bore End Extension
(EEMYFNV-2)
19 cm long
Injection priming volume: 0.25 ml
Reversed N/Free Y-port faces you,
for easy & safe access
Ideal for anaesthesia and difficult
patients
Secure attachment of secondary
set or syringe driver line
Tubing has high resilience and
excellent pliancy
Fixed male luer lock
Slide clamp fitted
End Extensions
Code Description Price
EESFNV15 Needle Free Standard
Extension
£3.65
EEMY2518 Mini Bore End Extension £1.89
EEMYFNV2 Mini bore Needle Free £3.45