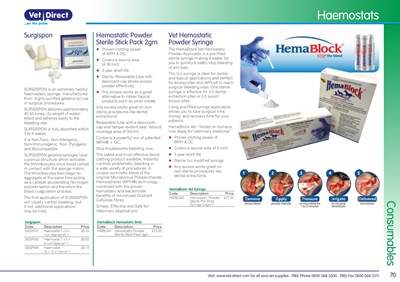 Consumables 70
Visit: www.vet-direct.com for all your vet supplies FREE Phone 0800 068 3300 FREE Fax 0800 068 3311
Haemostats
Surgispon
SURGISPON is an extremely helpful
haemostatic sponge, manufactured
from highly purified gelatine for use
in surgical procedures.
SURGISPON absorbs approximately
40-50 times, its weight of water/
blood and adheres easily to the
bleeding site.
SURGISPON is fully absorbed within
3 to 4 weeks
It is Non-Toxic, Non-Allergenic,
Non-Immunogenic, Non- Pyrogenic
and Biocompatible
SURGISPON gelatine sponges have
a porous structure which activates
the thrombocytes once blood comes
in contact with the sponge matrix.
The thrombocytes then begin to
aggregate at the same time acting
as a catalyst accelerating fibrinogen
polymerisation and therefore the
blood coagulation process.
The first application of SURGISPON
will usually control bleeding, but
if not, additional applications
may be tried.
Surgispon
Code Description Price
SGSP001 Haemostat 7 x 5 x
1cm Standard* 1
£5.25
SGSP002 Haemostat 7 x 5 x
0.1cm Special* 1
£5.65
SGSP004 Haemostat
10 x 10 x 10mm* 1
£0.70
Vet Hemostatic
Powder Syringe
The HemaBlock Vet Hemostatic
Powder Applicator is a pre-filled
sterile syringe-making it easier for
you to quickly & safely stop bleeding
of any type.
The 1cc syringe is ideal for dental
and topical applications and perfect
for biopsy sites and difficult to reach
surgical bleeding sites. One sterile
syringe is effective for 3-5 dental
extraction sites or 2-3 punch
biopsy sites.
Using pre-filled syringe applicators
allows you to save surgical time,
money, and recovery time for your
patients.
HemaBlock Vet - Tested on humans,
now ready for veterinary medicine!
X Proven clotting power of
MPH & OC
X Covers a wound area of 6 cm2
X 3 year shelf life
X Sterile 1cc modified syringe
X Any excess works great on
non-sterile procedures like
dental extractions
Hemostatic Powder
Sterile Stick Pack 2gm
X Proven clotting power
of MPH & OC
X Covers a wound area
of 30 cm2
X 3 year shelf life
X Sterile. Resealable tube with
desiccant cap stores excess
powder effectively
X Any excess works as a great
alternative to riskier topical
products such as silver nitrate
Any excess works great on nonsterile
procedures like dental
extractions!
Resealable tube with a desiccant
cap and tamper evident seal. Wound
coverage area of 30cm2.
Contains a powerful mix of patented
MPH® + OC.
Stop troublesome bleeding now.
The safest and most effective blood
clotting product available. Instantly
controls problematic bleeding in
a wide variety of procedures. A
unique iso-kinetic blend of the
original Microporous Polysaccharide
Hemospheres (MPH®) technology,
combined with the proven
hemostatic and bactericidal
benefits of micronized Oxidized
Cellulose fibres.
Simple, Effective and Safe for
Veterinary Applications
HemaBlock Vet Syringe
Code Description Price
HMBL002 Hemostatic Powder
Sterile Pre-filled
Syringe 0.4gm*1
£12.35
HemaBlock Hemostatic Stick
Code Description Price
HMBL001 Hemostatic Powder
Sterile Stick Pack 2gm
£13.35