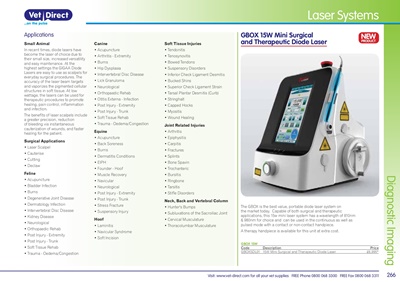 266
Visit: www.vet-direct.com for all your vet supplies FREE Phone 0800 068 3300 FREE Fax 0800 068 3311Diagnostic Imaging
Laser Systems
The GBOX is the best value, portable diode laser system on
the market today. Capable of both surgical and therapeutic
applications, this 15w mini laser system has a wavelength of 810nm
& 980nm for choice and can be used in the continuous as well as
pulsed mode with a contact or non-contact handpiece.
A therapy handpiece is available for this unit at extra cost.
GBOX 15W Mini Surgical
and Therapeutic Diode Laser
NEWPRODUCT
GBOX 15W
Code Description Price
GBOXSDL01 15W Mini Surgical and Therapeutic Diode Laser £6,995*
Small Animal
In recent times, diode lasers have
become the laser of choice due to
their small size, increased versatility
and easy maintenance. At the
highest settings the GIGAA Diode
Lasers are easy to use as scalpels for
everyday surgical procedures. The
accuracy of the laser beam targets
and vaporizes the pigmented cellular
structures in soft tissue. At low
wattage, the lasers can be used for
therapeutic procedures to promote
healing, pain control, inflammation
and infection.
The benefits of laser scalpels include
a greater precision, reduction
of bleeding via instantaneous
cauterization of wounds, and faster
healing for the patient.
Surgical Applications
• Laser Scalpel
• Cauterise
• Cutting
• Declaw
Feline
• Acupuncture
• Bladder Infection
• Burns
• Degenerative Joint Disease
• Dermatology Infection
• Intervertebral Disc Disease
• Kidney Disease
• Neurological
• Orthopaedic Rehab
• Post Injury - Extremity
• Post Injury - Trunk
• Soft Tissue Rehab
• Trauma - Oedema/Congestion
Canine
• Acupuncture
• Arthritis - Extremity
• Burns
• Hip Dysplasia
• Intervertebral Disc Disease
• Lick Granuloma
• Neurological
• Orthopaedic Rehab
• Otitis Externa - Infection
• Post Injury - Extremity
• Post Injury - Trunk
• Soft Tissue Rehab
• Trauma - Oedema/Congestion
Equine
• Acupuncture
• Back Soreness
• Burns
• Dermatitis Conditions
• EIPH
• Founder - Hoof
• Muscle Recovery
• Navicular
• Neurological
• Post Injury - Extremity
• Post Injury - Trunk
• Stress Fracture
• Suspensory Injury
Hoof
• Laminitis
• Navicular Syndrome
• Soft Incision
Soft Tissue Injuries
• Tendonitis
• Tenosynovitis
• Bowed Tendons
• Suspensory Disorders
• Inferior Check Ligament Desmitis
• Bucked Shins
• Superior Check Ligament Strain
• Tarsal Plantar Desmitis (Curb)
• Stringhalt
• Capped Hocks
• Myositis
• Wound Healing
Joint Related Injuries
• Arthritis
• Epiphysitis
• Carpitis
• Fractures
• Splints
• Bone Spavin
• Trochanteric
• Bursitis
• Ringbone
• Tarsitis
• Stifle Disorders
Neck, Back and Vertebral Column
• Hunter's Bumps
• Subluxations of the Sacroiliac Joint
• Cervical Musculature
• Thoracolumbar Musculature
Applications