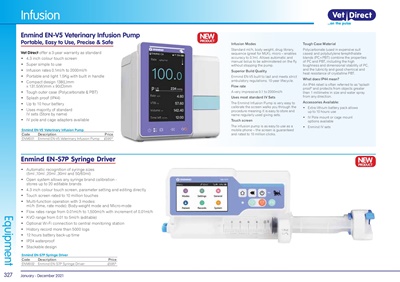 327Equipment January - December 2021
Infusion
Enmind EN-V5 Veterinary Infusion Pump
Portable, Easy to Use, Precise & Safe
Enmind EN-V5 Veterinary Infusion Pump
Code Description Price
ENM001 Enmind EN-V5 Veterinary Infusion Pump £595*
Infusion Modes
Standard ml/h, body weight, drug library,
sequence (great for MLK), micro - enables
accuracy to 0.1ml. Allows automatic and
manual bolus to be administered on the fly
without stopping the pump.
Superior Build Quality
Enmind EN-V5 built to last and meets strict
ambulatory regulations. 10-year lifecycle.
Flow rate
A very impressive 0.1 to 2000ml/h
Uses most standard IV Sets
The Enmind Infusion Pump is very easy to
calibrate the screen walks you through the
procedure meaning it is easy to store and
name regularly used giving sets.
Touch screen
The infusion pump is as easy to use as a
mobile phone - the screen is guaranteed
and rated to 10 million clicks.
Tough Case Material
Polycarbonate (used in expensive suit
cases) and polybutylene terephthalate
blends (PC+PBT) combine the properties
of PC and PBT, including the high
toughness and dimensional stability of PC,
and the lubricity and good chemical and
heat resistance of crystalline PBT.
What does IP44 mean?
An IP44 rated is often referred to as "splash
proof" and protects from objects greater
than 1 millimetre in size and water spray
from any direction.
Accessories Available:
• Extra lithium battery pack allows
up to 10 hours use
• IV Pole mount or cage mount
options available
• Enmind IV sets
Vet Direct offer a 3-year warranty as standard
• 4.3 inch colour touch screen
• Super simple to use
• Infusion rates 0.1ml/h to 2000ml/h
• Portable and light 1.5Kg with built in handle
• Compact design 138(L)mm
x 131.5(W)mm x 90(D)mm
• Tough outer case (Polycarbonate & PBT)
• Splash proof (IP44)
• Up to 10 hour battery
• Uses majority of standard
IV sets (Store by name)
• IV pole and cage adapters available
NEWPRODUCT
Enmind EN-S7P Syringe Driver
Code Description Price
ENM002 Enmind EN-S7P Syringe Driver £595*
• Automatic recognition of syringe sizes
(5ml ,10ml ,20ml ,30ml and 50/60ml)
• Open system allows any syringe brand calibration -
stores up to 20 editable brands
• 4.3 inch colour touch screen, parameter setting and editing directly
• Touch screen rated to 10 million touches
• Multi-function operation with 3 modes:
ml/h (time, rate mode); Body-weight mode and Micro-mode
• Flow rates range from 0.01ml/h to 1,500ml/h with increment of 0.01ml/h
• KVO range from 0.01 to 5ml/h (editable)
• Optional Wi-Fi connection to central monitoring station
• History record more than 5000 logs
• 12 hours battery back-up time
• IP24 waterproof
• Stackable design
NEWPRODUCT
Enmind EN-S7P Syringe Driver