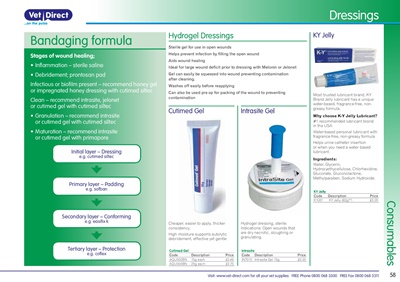 Consumables 58
Visit: www.vet-direct.com for all your vet supplies FREE Phone 0800 068 3300 FREE Fax 0800 068 3311
Hydrogel Dressings
Sterile gel for use in open wounds
Helps prevent infection by filling the open wound
Aids wound healing
Ideal for large wound deficit prior to dressing with Melonin or Jelonet
Gel can easily be squeezed into wound preventing contamination
after cleaning.
Washes off easily before reapplying
Can also be used pre op for packing of the wound to preventing
contamination
Hydrogel dressing, sterile.
Indications: Open wounds that
are dry necrotic, sloughing or
granulating.
Intrasite Gel
Cheaper, easier to apply, thicker
consistency.
High moisture supports autolytic
debridement, effective yet gentle
Cutimed Gel
Intrasite
Code Description Price
INT015 Intrasite Gel 15g £2.35
Cutimed Gel
Code Description Price
AQU002BN 15g each £2.49
AQU004BN 25g each £3.75
KY Jelly
KY Jelly
Code Description Price
KYJ01 KY Jelly (82g)*1 £3.20
Most trusted lubricant brand, KY
Brand Jelly lubricant has a unique
water-based, fragrance-free, nongreasy
formula.
Why choose K-Y Jelly Lubricant?
#1 recommended lubricant brand
in the USA
Water-based personal lubricant with
fragrance-free, non-greasy formula
Helps urine catheter insertion
or when you need a water based
lubricant.
Ingredients:
Water, Glycerin,
Hydroxyethycellulose, Chlorhexidine,
Gluconate, Gluconolactone,
Methylparaben, Sodium Hydroxide.
Dressings
Stages of wound healing;
• Inflammation - sterile saline
• Debridement; prontosan pad
Infectious or biofilm present - recommend honey gel
or impregnated honey dressing with cutimed siltec
Clean - recommend intrasite, jelonet
or cutimed gel with cutimed siltec
• Granulation - recommend intrasite
or cutimed gel with cutimed siltec
• Maturation - recommend intrasite
or cutimed gel with primapore
Bandaging formula
Initial layer - Dressing
e.g. cutimed siltec
Primary layer - Padding
e.g. sofban
Secondary layer - Conforming
e.g. easifix k
Tertiary layer - Protection
e.g. coflex