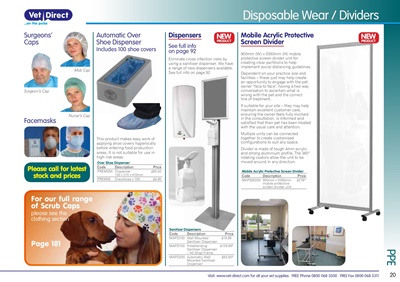 PPE 20
Visit: www.vet-direct.com for all your vet supplies FREE Phone 0800 068 3300 FREE Fax 0800 068 3311
Disposable Wear / Dividers
Surgeons'
Caps
Mob Cap
Surgeon's Cap
Nurse's Cap
Facemasks
Automatic Over
Shoe Dispenser
Includes 100 shoe covers
This product makes easy work of
applying shoe covers hygienically
before entering food production
areas. It is not suitable for use in
high risk areas.
Over Shoe Dispenser
Code Description Price
PREM05A Dispenser
130 x 210 x 410mm
£65.00
PREM05 Overshoes x 100 £4.95
For our full range
of Scrub Caps
please see the
clothing section
Page 181
Please call for latest
stock and prices
Eliminate cross infection risks by
using a sanitiser dispenser. We have
a range of new dispensers available.
See full info on page 92
See full info
on page 92
Sanitiser Dispensers
Code Description Price
MAPD100 Wall Mounted
Sanitiser Dispenser
£19.99
MAPD150 Freestanding
Sanitiser Dispenser
- A3 Snap Frame
£129.99*
MAPD200 Automatic Wall
Mounted Sanitiser
Dispenser
£63.00*
Dispensers NEWPRODUCT
Mobile Acrylic Protective
Screen Divider
900mm (W) x 2090mm (H) mobile
protective screen divider unit for
creating clear partitions to help
implement social distancing guidelines.
Dependent on your practice size and
facilities - these just may help create
an opportunity to engage with the pet
owner "face to face", having a two way
conversation to ascertain what is
wrong with the pet and the correct
line of treatment.
If suitable for your site - they may help
maintain excellent customer care,
ensuring the owner feels fully involved
in the consultation, is informed and
satisfied that their pet has been treated
with the usual care and attention.
Multiple units can be connected
together to create customised
configurations to suit any space.
Divider is made of tough 4mm acrylic
and strong aluminium profile. The 360°
rotating castors allow the unit to be
moved around in any direction.
NEWPRODUCT
Mobile Acrylic Protective Screen Divider
Code Description Price
MAPS90200 900mm x 2090mm
mobile protective
screen divider unit
£278*