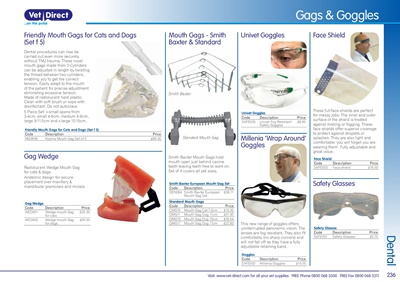 236
Visit: www.vet-direct.com for all your vet supplies FREE Phone 0800 068 3300 FREE Fax 0800 068 3311 Dental
Mouth Gags - Smith
Baxter & Standard
Smith Baxter Mouth Gags hold
mouth open just behind canine
teeth leaving teeth free to work on.
Set of 4 covers all pet sizes.
Smith Baxter
Standard Mouth Gag
Gag Wedge
Radiolucent Wedge Mouth Gag
for cats & dogs.
Anatomic design for secure
placement over maxillary &
mandibular premolars and molars.
Gag Wedge
Code Description Price
WED001 Wedge mouth Gag
for cats
£20.35
WED002 Wedge mouth Gag
for dogs
£20.50
Friendly Mouth Gags for Cats and Dogs (Set f 5)
Code Description Price
MG2646 Kojima Mouth Gag Set of 5 £89.95
Smith Baxter European Mouth Gag Set
Code Description Price
DEN084 Smith Baxter European
Mouth Gag Set
£38.71
Standard Mouth Gags
Code Description Price
CMG75 Mouth Gag Cat 7.5cm £15.35
DMG11 Mouth Gag Dog 11cm £21.95
DMG15 Mouth Gag Dog 15cm £18.54
DMG17 Mouth Gag Dog 17cm £22.83 This new range of goggles offers
uninterrupted panoramic vision. The
lenses are fog resistant. They also fit
comfortably (no sharp corners) and
will not fall off as they have a fully
adjustable retaining band.
Safety Glasses
Univet Goggles
Millenia 'Wrap Around'
Goggles
These full-face shields are perfect
for messy jobs. The inner and outer
surface of the shield is treated
against misting or fogging. These
face shields offer superior coverage
to protect against droplets or
splashes. They are also light and
comfortable 'you will forget you are
wearing them'. Fully adjustable and
great value.
Face Shield
Safety Glasses
Code Description Price
SAFE001 Safety Glasses £5.75
Univet Goggles
Code Description Price
SAFE005 Univet Fog Resistant
Safety Goggles
£8.95
Face Shield
Code Description Price
SAFE003 Face shield £16.50
Goggles
Code Description Price
SAFE002 Millenia Goggles £10.55
Gags & Goggles
Dental procedures can now be
carried out even more securely
without TMJ trauma. These novel
mouth gags made from 2-Cylinders
can be adjusted in length by twisting
the thread between two cylinders,
enabling you to get the correct
tension. Easily adapt to the mouth
of the patient for precise adjustment
eliminating excessive tension.
Made of radiolucent hard plastic.
Clean with soft brush or wipe with
disinfectant. Do not autoclave.
5 Piece Set: x-small opens from
3-4cm, small 4-6cm, medium 6-8cm,
large 9-11.5cm and x-large 12-15cm.
Friendly Mouth Gags for Cats and Dogs
(Set f 5)