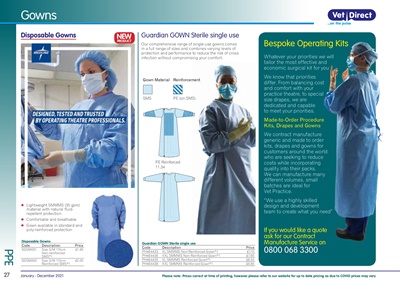 PPE 27 January - December 2021
Gowns
Disposable Gowns
Code Description Price
SGSM001 Size S/M 115cm
Non-reinforced
SMS*1
£1.95
SGSM002 Size S/M 115cm
Reinforced SMS*1
£2.05
NEWPRODUCT
Please note: Prices correct at time of printing, however please refer to our website for up to date pricing as due to COVID prices may vary
Guardian GOWN Sterile single use
Disposable Gowns
Our comprehensive range of single-use gowns comes
in a full range of sizes and combines varying levels of
protection and performance to reduce the risk of cross
infection without compromising your comfort.
Standard Gown
11.30 and 11.35
All materials are Latex Free.
Diagrams are not to scale.
SMS
Gown Material PE (on SMS)
Reinforcement
PE Reinforced
11.34
Whatever your priorities we will
tailor the most effective and
economic surgical kit for you
We know that priorities
differ. From balancing cost
and comfort with your
practice theatre, to special
size drapes, we are
dedicated and capable
to meet your priorities.
Made-to-Order Procedure
Kits, Drapes and Gowns
We contract manufacture
generic and made to order
kits, drapes and gowns for
customers around the world
who are seeking to reduce
costs while incorporating
quality into their packs.
We can manufacture many
different volumes, small
batches are ideal for
Vet Practice.
"We use a highly skilled
design and development
team to create what you need"
Bespoke Operating Kits
If you would like a quote
ask for our Contract
Manufacture Service on
0800 068 3300
Guardian GOWN Sterile single use
Code Description Price
PH464433 XL SMMMS Non-Reinforced Gown*1 £7.15
PH464436 XXL SMMMS Non-Reinforced Gown*1 £7.65
PH464435 XL SMMMS Reinforced Gown*1 £8.50
PH464438 XXL SMMMS Reinforced Gown*1 £9.85
X Lightweight SMMMS (35 gsm)
material with natural fluidrepellent
protection
X Comfortable and breathable
X Gown available in standard and
poly-reinforced protection