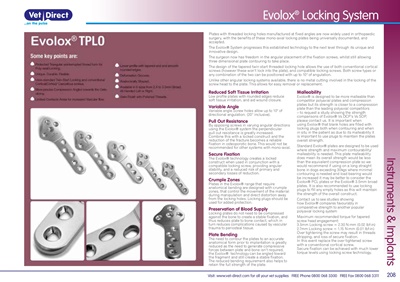 208
Visit: www.vet-direct.com for all your vet supplies FREE Phone 0800 068 3300 FREE Fax 0800 068 3311Instruments & Implants
Reduced Soft Tissue Irritation
Low profile plates with rounded edges reduce
soft tissue irritation, and aid wound closure.
Variable Angle
Variable angle Screw holes allow up to 10° of
directional angulation. (20° inclusive).
Pull Out Resistance
By opposing screws in varying angular directions
using the Evolox® system the perpendicular
pull out resistance is greatly increased.
Combine this with a locked construct and the
reduction of the fracture becomes a reliable
fixation in osteoporotic bone. This would not be
recommended for other systems with mono-axial.
Secure Fixation
The Evolox® technology creates a locked
construct when used in conjunction with a
compatible locking screw, providing angular
stability, and a reduced risk of primary and
secondary losses of reduction.
Crumple Zones
Plates in the Evolox® range that require
anatomical bending are designed with crumple
zones, that control the movement of the material
during manipulation and direct distortion away
from the locking holes. Locking plugs should be
used for added protection.
Preservation of Blood Supply
Locking plates do not need to be compressed
against the bone to create a stable fixation, and
thus reduces plate to bone contact, which in
turn reduces complications caused by vascular
trauma to periosteal tissue.
Plate Bending
The need to contour the plates to an accurate
anatomical form prior to implantation is greatly
reduced as the need to generate compressive
forces between plate and bone isn't required,
the Evolox® technology can be angled toward
the fragment and still create a stable fixation.
The reduced bending requirement also helps to
retain the full strength of the plate.
Malleability
Evolox® is designed to be more malleable than
competitor polyaxial plates and compression
plates but its strength is closer to a compression
plate than the leading polyaxial competitors
- to request a study showing the strength
comparisons of Evolox® Vs DCP's Vs SOP,
please contact us. It is important when
using Evolox® that blank holes are filled with
locking plugs both when contouring and when
in situ in the patient as due to its malleability it
is important to use plugs to maintain the plates
overall strength.
Standard Evolox® plates are designed to be used
where strength and maximum contourability/
malleability is needed. This plate malleability
does mean its overall strength would be less
than the equivalent compression plate so we
would recommend if using on a long straight
bone in dogs exceeding 30kgs where minimal
contouring is needed and load bearing would
be increased it may be better to consider the
Evolox® PCL plates or the Evolox® 3.5mm broad
plates. It is also recommended to use locking
plugs to fill any empty holes as this will maintain
the strength of the overall construct.
Contact us to see studies showing
how Evolox® compares favourably in
comparative strength to another popular
polyaxial locking system
Maximum recommended torque for tapered
screw head engagement:
3.5mm Locking screw = 2.30 N-mm (0.02 lbf-in)
2.7mm Locking screw = 1.15 N-mm (0.01 lbf-in)
Over tightening the screw may result in threads
stripping, and loss of secure fixation.
In this event replace the over tightened screw
with a conventional cortical screw.
Secure fixation can be achieved with much lower
torque levels using locking screw technology.
Plates with threaded locking holes manufactured at fixed angles are now widely used in orthopaedic
surgery, with the benefits of these mono-axial locking plates being universally documented, and
accepted.
The Evolox® System progresses this established technology to the next level through its unique and
innovative design.
The surgeon now has freedom in the angular placement of the fixation screws, whilst still allowing
three dimensional plate contouring to take place.
The design of the tapered twin start threaded locking hole allows the use of both conventional cortical
screws (however these won't lock into the plate), and compatible locking screws. Both screw types or
any combination of the two can be positioned with up to 10° of angulation.
Unlike other angular locking systems available, there is no metal cutting involved in the locking of the
screw head to the plate. This allows for easy removal or replacement.
Evolox® Locking System