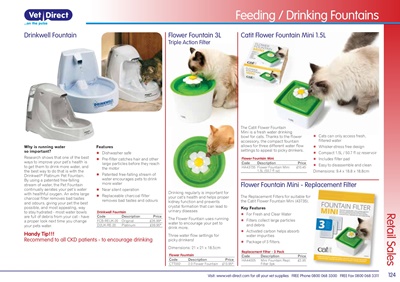 124
Visit: www.vet-direct.com for all your vet supplies FREE Phone 0800 068 3300 FREE Fax 0800 068 3311Retail Sales
Feeding / Drinking Fountains
Flower Fountain Mini - Replacement Filter
Catit Flower Fountain Mini 1.5L
Drinking regularly is important for
your cat's health and helps proper
kidney function and prevents
crystal formation that can lead to
urinary diseases
The Flower Fountain uses running
water to encourage your pet to
drink more.
Three water flow settings for
picky drinkers!
Dimensions: 21 x 21 x 18.5cm
Flower Fountain
Code Description Price
CTT002 2.0 Flower Fountain £13.95*
Replacement Filter - 3 Pack
Code Description Price
HA44005 Mini Fountain Repl.
Filter 3pk
£2.95
Flower Fountain Mini
Code Description Price
HA43735 Flower Fountain Mini
1.5L (50.7 fl oz)
£10.45
The Catit Flower Fountain
Mini is a fresh water drinking
bowl for cats. Thanks to the flower
accessory, the compact fountain
allows for three different water flow
settings to appeal to picky drinkers.
W Cats can only access fresh,
filtered water
W Whisker-stress free design
W Compact 1.5L / 50.7 fl oz reservoir
W Includes filter pad
W Easy to disassemble and clean
Dimensions: 9.4 x 18.8 x 18.8cm
The Replacement Filters for suitable for
the Catit Flower Fountain Mini (43735).
Key Features
W For Fresh and Clear Water
W Filters collect large particles
and debris
W Activated carbon helps absorb
water impurities
W Package of 3 filters.
Why is running water
so important?
Research shows that one of the best
ways to improve your pet's health is
to get them to drink more water, and
the best way to do that is with the
Drinkwell® Platinum Pet Fountain.
By using a patented free-falling
stream of water, the Pet Fountain
continually aerates your pet's water
with healthful oxygen. An extra large
charcoal filter removes bad tastes
and odours, giving your pet the best
possible, and most appealing, way
to stay hydrated - most water bowls
are full of debris from your cat - have
a proper look next time you change
your pets water.
Features
X Dishwasher safe
X Pre-filter catches hair and other
large particles before they reach
the motor
X Patented free-falling stream of
water encourages pets to drink
more water
X Near silent operation
X Replaceable charcoal filter
removes bad tastes and odours
Handy Tip!!!
Recommend to all CKD patients - to encourage drinking
Drinkwell Fountain
Drinkwell Fountain
Code Description Price
FCB-REUK-20 Original £26.99*
D2UK-RE-20 Platinum £39.95*
Flower Fountain 3L
Triple Action Filter