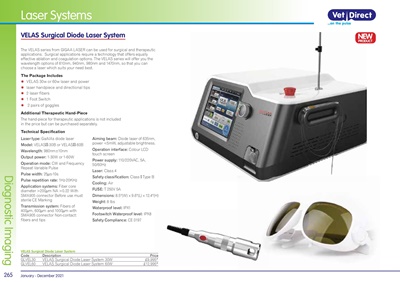 265Diagnostic Imaging January - December 2021
The VELAS series from GIGAA LASER can be used for surgical and therapeutic
applications. Surgical applications require a technology that offers equally
effective ablation and coagulation options. The VELAS series will offer you the
wavelength options of 810nm, 940nm, 980nm and 1470nm, so that you can
choose a laser which suits your need best.
The Package Includes
X VELAS 30w or 60w laser and power
X laser handpiece and directional tips
X 2 laser fibers
X 1 Foot Switch
X 2 pairs of goggles
Additional Therapeutic Hand-Piece
The hand-piece for therapeutic applications is not included
in the price but can be purchased separately.
Technical Specification
Laser Systems
VELAS Surgical Diode Laser System
Code Description Price
GLVEL30 VELAS Surgical Diode Laser System 30W £9,995*
GLVEL60 VELAS Surgical Diode Laser System 60W £12,995*
Laser type: GaAlAs diode laser
Model: VELASII-30B or VELASII-60B
Wavelength: 980nm±10nm
Output power: 1-30W or 1-60W
Operation mode: CW and Frequency
Repeat Variable Pulse
Pulse width: 25µs-10s
Pulse repetition rate: 1Hz-20KHz
Application systems: Fiber core
diameter >200µm NA >0.22 With
SMA905 connector Before use must
sterile CE Marking
Transmission system: Fibers of
400µm, 600µm and 1000µm with
SMA905 connector Non-contact:
fibers and tips
Aiming beam: Diode laser of 635nm,
power <5mW, adjustable brightness.
Operation interface: Colour LCD
touch screen
Power supply: 110/220VAC, 5A,
50/60Hz
Laser: Class 4
Safety classification: Class I Type B
Cooling: Air
FUSE: T 250V 5A
Dimensions: 8.5"(W) x 9.6"(L) x 12.4"(H)
Weight: 8 lbs
Waterproof level: IPX1
Footswitch Waterproof level: IPX8
Safety Compliance: CE 0197
VELAS Surgical Diode Laser System NEWPRODUCT