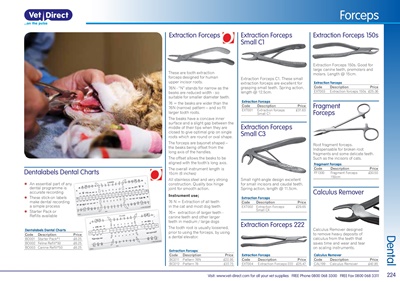 224
Visit: www.vet-direct.com for all your vet supplies FREE Phone 0800 068 3300 FREE Fax 0800 068 3311 Dental
Forceps
These are tooth extraction
forceps designed for human
upper incisor roots.
76N - "N" stands for narrow as the
beaks are reduced width - so
suitable for smaller diameter teeth.
76 = the beaks are wider than the
76N (narrow) pattern - and so fit
larger tooth roots.
The beaks have a concave inner
surface and a slight gap between the
middle of their tips when they are
closed to give optimal grip on single
roots which are round or oval shape.
The forceps are bayonet shaped -
the beaks being offset from the
long axis of the handles.
The offset allows the beaks to be
aligned with the tooth's long axis.
The overall instrument length is
15cm (6 inches)
All stainless steel and very strong
construction. Quality box hinge
joint for smooth action.
Instrument use;
76 N = Extraction of all teeth
in the cat and most dog teeth
76= extraction of larger teeth -
canine teeth and other larger
teeth in medium / large dogs
The tooth root is usually loosened,
prior to using the forceps, by using
a dental elevator.
Extraction Forceps
Extraction Forceps
Code Description Price
BO211 Pattern 76N £22.95
BO212 Pattern 76 £22.75
Calculus Remover designed
to remove heavy deposits of
calculus from the teeth that
saves time and wear and tear
on scaling instruments.
Root fragment forceps.
Indispensable for broken root
fragments and some delicate teeth.
Such as the incisors of cats.
Calculus Remover
Fragment
Forceps
Extraction Forceps
Small C1
Extraction Forceps C1. These small
extraction forceps are excellent for
grasping small teeth. Spring action,
length @ 12.5cm.
Extraction Forceps
Small C3
Small right-angle design excellent
for small incisors and caudal teeth.
Spring action, length @ 11.5cm.
Extraction Forceps 150s
Extraction Forceps 150s. Good for
large canine teeth, premolars and
molars. Length @ 15cm.
Extraction Forceps 222
Extraction Forceps
Code Description Price
EXT004 Extraction Forceps 222 £25.47
Calculus Remover
Code Description Price
CAL199 Calculus Remover £42.85
Fragment Forceps
Code Description Price
FF1300 Fragment Forceps
150cm
£30.50
Extraction Forceps
Code Description Price
EXT001 Extraction forceps
Small C1
£31.63
Extraction Forceps
Code Description Price
EXT002 Extraction Forceps
Small CX
£29.65
Extraction forceps
Code Description Price
EXT003 Extraction forceps 150s £25.36
Dentalabels Dental Charts
X An essential part of any
dental programme is
accurate recording
X These stick-on labels
make dental recording
a simple process
X Starter Pack or
Refills available
Dentalabels Dental Charts
Code Description Price
BO001 Starter Pack*1 £6.25
BO002 Feline Refill*50 £6.25
BO003 Canine Refill*50 £6.25