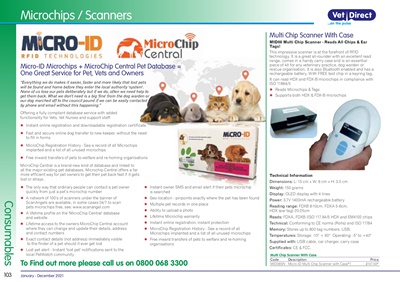 Consumables 103 January - December 2021
Microchips / Scanners
"Everything we do makes it easier, faster and more likely that lost pets
will be found and home before they enter the local authority 'system'.
None of us lose our pets deliberately but if we do, often we need help to
get them back. What we don't need is a big 'fine' from the dog warden or
our dog marched off to the council pound if we can be easily contacted
by phone and email without this happening."
Offering a fully compliant database service with added
functionality for Vets, Vet Nurses and support staff:
X Instant online registration and downloadable registration certificate
X Fast and secure online dog transfer to new keeper, without the need
to fill in forms
X MicroChip Registration History - See a record of all Microchips
implanted and a list of all unused microchips
X Free inward transfers of pets to welfare and re-homing organisations
MicroChip Central is a brand-new kind of database and linked to
all the major existing pet databases, Microchip Central offers a far
more efficient way for pet owners to get their pet back fast if it gets
lost or strays.
X The only way that ordinary people can contact a pet owner
quickly from just a pet's microchip number
X A network of 100's of scanners under the banner of
ScanAngels are available, in some cases 24/7 to scan
pets microchips free, see: www.scanangel.com
X A lifetime profile on the 'MicroChip Central' database
and website
X Lifetime access to the owners MicroChip Central account
where they can change and update their details, address
and contact numbers
X Exact contact details (not address) immediately visible
to the finder of a pet should it ever get lost
X Lost pet alert - Instant 'lost pet' notifications sent to the
local PetWatch community
X Instant owner SMS and email alert if their pets microchip
is searched
X Geo-location - pinpoints exactly where the pet has been found
X Multiple pet records in one place
X Ability to upload a photo
X Lifetime Microchip warranty
X Instant online registration, instant protection
X MicroChip Registration History - See a record of all
Microchips implanted and a list of all unused microchips
X Free inward transfers of pets to welfare and re-homing
organisations
To Find out more please call us on 0800 068 3300
Multi Chip Scanner With Case
MID08 Multi Chip Scanner - Reads All Chips & Ear
Tags!
This impressive scanner is at the forefront of RFID
technology. It is a great all-rounder with an excellent read
range, comes in a handy carry case and is an essential
piece of kit for any veterinary practice, dog warden or
rescue organisation. It is also Bluetooth enabled and has a
rechargeable battery. With FREE test chip in a keyring tag.
It can read HDX and FDX-B microchips in compliance with
ISO 11884/5
X Reads Microchips & Tags
X Supports both HDX & FDX-B microchips
Technical Information
Dimensions: L: 15 cm x W: 8 cm x H: 3.5 cm
Weight: 150 grams
Display: OLED display with 4 lines
Power: 3.7V 1400mA rechargeable battery
Reading range: FDXB 8-10cm. FDXA 5-6cm.
HDX (ear tag) 20-25cm
Reads: FDXA, FDXB (ISO 117 84/5 HDX and EM4102 chips
Technical: Conforming to CE norms (Rohs) and ISO 11784
Memory: Stores up to 800 tag numbers. USB.
Temperatures: Storage: -10° + 60° Operating: -5° to +40°
Supplied with: USB cable, car charger, carry case
Certificates: CE & FCC.
Multi Chip Scanner With Case
Code Description Price
MID08SN Micro-ID Multi Chip Scanner with Case*1 £147.50*
Micro-ID Microchips + MicroChip Central Pet Database =
One Great Service for Pet, Vets and Owners