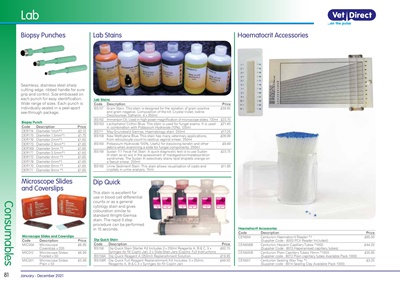 Consumables 81 January - December 2021
Haematocrit Accessories
Haematocrit Accessories
Code Description Price
CEN004 Centurion Haematocrit Reader *1
(Supplier Code - 8003 PCV Reader Included)
£65.00
CEN006B Centurion Heparin Capillary Tubes *1000
(Supplier Code - 8013 Heperanised capillary tubes)
£44.25
CEN005B Centurion Plain Capillary Tubes 75mm *1000
(Supplier code - 8012 Plain capillary tubes Available Pack 1000)
£35.95
CEN007 Centurion Sealing Wax Tray *1
(Supplier code - 8014 Sealing Clay Available Pack 1000)
£3.25
Lab
Dip Quick
This stain is excellent for
use in blood cell differential
counts or as a general
cytology stain and gives
colouration similar to
standard Wright-Giemsa
stain. The rapid 3 step
procedure can be performed
in 15 seconds.
Lab Stains
Dip Quick Stain
Code Description Price
BS156 Dip Quick Stain Starter Kit Includes 3 x 250ml Reagents A, B & C, 3 x
Syringes (to fill Coplin Jar), 3 x Slide Stain Jars (Coplin), Full Instructions
£62.75
BS156A Dip Quick Reagent A (250ml) Replensihment Solution £19.95
BS156R Dip Quick Full Reagent Replensihment Kit Includes: 3 x 250ml,
Reagents A, B & C,3 x Syringes (to fill Coplin Jar)
£49.50
Lab Stains
Code Description Price
BS157 Gram Stain. This stain is designed for the isolation of gram positive
and gram negative. Composition of the kit: Crystal Violet, Iodine
Decolouriser, Safranin. 4 x 250ml
£39.95
BS162 Immersion Oil. Used in high power magnification of microscope slides. 120ml £23.75
BS163 Lactophenol Cotton Blue. This stain is used for fungal exams. It is used
in combination with Potassium Hydroxide (10%). 120ml
£21.45
BS711 May-Grundwald Giemsa. Haematology stain. 250ml £17.25
BS158 New Methylene Blue. This stain has many veterinary applications,
from reticulocyte count to oestrus vaginal smear. 250ml
£26.99
BS160 Potassium Hydroxide 100%. Useful for dissolving keratin and other
debris when examining a slide for fungal components. 250ml
£9.49
BS159 Sudan 111 Fecal Fat Stain. A quick diagnostic test is to use Sudan
III stain as an aid in the assessment of maldigestion/malabsorbtion
syndromes. The Sudan III selectively stains lipid droplets orange on
a faecal smear. 250ml
£23.75
BS165 Urine Sediment Stain. This stain allows visualisation of casts and
crystals in urine analysis. 15ml
£11.95
Seamless, stainless steel sharp
cutting edge, ribbed handle for sure
grip and control. Size embossed on
each punch for easy identification.
Wide range of sizes. Each punch is
individually sealed in a peel-apart
see-through package.
Microscope Slides
and Coverslips
Biopsy Punches
Microscope Slides and Coverslips
Code Description Price
MIC004 Microscope
Coverslips x 200
£6.95
MIC012 Microscope Slides
Frosted x 50
£6.99
MIC001 Microscope Slides
Plain x 50
£3.99
Biopsy Punch
Code Description Price
DER174 Diameter 1mm*1 £2.10
DER175 Diameter 1.5mm*1 £1.75
DER176 Diameter 2mm*1 £1.60
DER173 Diameter 2.5mm*1 £1.60
DER169 Diameter 3mm *1 £1.60
DER177 Diameter 3.5mm*1 £1.60
DER172 Diameter 4mm *1 £1.60
DER178 Diameter 5mm*1 £1.60
DER170 Diameter 6mm *1 £1.60
DER171 Diameter 8mm *1 £1.60