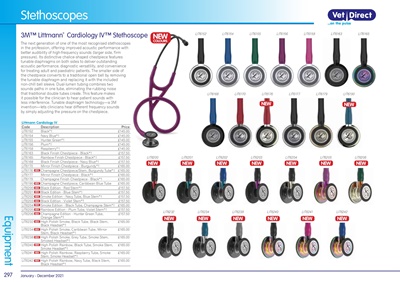 297Equipment January - December 2021
Stethoscopes
Littmann Cardiology IV
Code Description Price
LIT6152 Black*1 £145.00
LIT6154 Navy Blue*1 £145.00
LIT6155 Hunter Green*1 £145.00
LIT6156 Plum*1 £145.00
LIT6158 Raspberry*1 £145.00
LIT6163 Black Finish Chestpiece - Black*1 £157.50
LIT6165 Rainbow Finish Chestpiece - Black*1 £157.50
LIT6168 Black Finish Chestpiece - Navy Blue*1 £157.50
LIT6170 Mirror Finish Chestpiece - Burgundy*1 £165.00
LIT6176 Champagne Chestpiece/Stem, Burgundy Tube*1 £165.00
LIT6177 Mirror Finish Chestpiece - Black*1 £165.00
LIT6179 Champagne Finish Chestpiece - Black*1 £165.00
LIT6190 Champagne Chestpiece, Caribbean Blue Tube £165.00
LIT6200 Black Edition - Red Stem*1 £157.50
LIT6201 Black Edition - Blue Stem*1 £157.50
LIT6202 Smoke Edition - Navy Tube, Blue Stem*1 £157.50
LIT6203 Black Edition - Violet Stem*1 £157.50
LIT6204 Smoke Edition - Black Tube, Champagne Stem*1 £165.00
LIT6205 Rainbow Edition - Plum Tube, Violet Stem*1 £157.50
LIT6206 Champagne Edition - Hunter Green Tube,
Orange Stem*1
£157.50
LIT6232 High Polish Smoke, Black Tube, Black Stem,
Black Headset*1
£165.00
LIT6234 High Polish Smoke, Caribbean Tube, Mirror
Stem, Black Headset*1
£165.00
LIT6238 High Polish Smoke, Grey Tube, Smoke Stem,
Smoked Headset*1
£165.00
LIT6240 High Polish Rainbow, Black Tube, Smoke Stem,
Smoke Headset*1
£165.00
LIT6241 High Polish Rainbow, Raspberry Tube, Smoke
Stem, Smoke Headset*1
£165.00
LIT6242 High Polish Rainbow, Navy Tube, Black Stem,
Black Headset*1
£165.00
The next generation of one of the most recognised stethoscopes
in the profession, offering improved acoustic performance with
better audibility of high-frequency sounds (larger side, firm
pressure). Its distinctive chalice-shaped chestpiece features
tunable diaphragms on both sides to deliver outstanding
acoustic performance, diagnostic versatility, and convenience
for treating adult and paediatric patients. The smaller side of
the chestpiece converts to a traditional open bell by removing
the tunable diaphragm and replacing it with the included
non-chill bell sleeve. Dual-lumen tubing combines two
sounds paths in one tube, eliminating the rubbing noise
that traditional double tubes create. This feature makes
it possible for the clinician to hear patient sounds with
less interference. Tunable diaphragm technology-a 3M
invention-lets clinicians hear different frequency sounds
by simply adjusting the pressure on the chestpiece.
NEW
NEW
NEW
NEW
NEW
NEW
NEW
NEW
NEW
NEW
NEW
NEW
NEW
NEW
NEW
3M™ Littmann® Cardiology IV™ Stethoscope LIT6152 LIT6154 LIT6155 LIT6156 LIT6158 LIT6163 LIT6165
LIT6168 LIT6170 LIT6176 LIT6177 LIT6179 LIT6190
LIT6200 LIT6201 LIT6202 LIT6203 LIT6204 LIT6205 LIT6206
LIT6232 LIT6234 LIT6238 LIT6240 LIT6241 LIT6242
NEW
NEW NEW NEW NEW NEW NEW
NEW NEW
NEW NEW NEW NEW NEW NEW
NEWCOLOURS