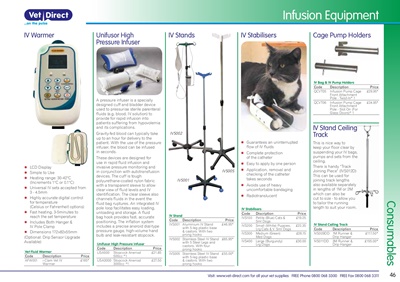 Consumables 46
Visit: www.vet-direct.com for all your vet supplies FREE Phone 0800 068 3300 FREE Fax 0800 068 3311
Infusion Equipment
Unifusor High
Pressure Infuser
A pressure infuser is a specially
designed cuff and bladder device
used to pressurise sterile parenteral
fluids (e.g. blood, IV solution) to
provide for rapid infusion into
patients suffering from hypovolemia
and its complications.
Gravity-fed blood can typically take
up to an hour for delivery to the
patient. With the use of the pressure
infuser, the blood can be infused
in seconds.
These devices are designed for
use in rapid fluid infusion and
invasive pressure monitoring and
in conjunction with autotransfusion
devices. The cuff is tough
polyurethane-coated nylon fabric
with a transparent sleeve to allow
clear view of fluid levels and IV
identification. The clear sleeve also
channels fluids in the event the
fluid bag ruptures. An integrated IV
pole loop facilitates easy loading,
unloading and storage. A fluid
bag hook provides fast, accurate
positioning. The inflation system
includes a precise aneroid dial-type
pressure gauge, high-volume hand
bulb and leak-resistant stopcock.
Unifusor High Pressure Infuser
Code Description Price
USA500 Stopcock Aneriod
500cc *1
£21.85
USA3000 Stopcock Aneriod
3000cc *1
£27.50
IV Stabilisers
X Guarantees an uninterrupted
flow of IV fluids
X Complete protection
of the catheter
X Easy to apply by one person
X Application, removal and
checking of the catheter
takes seconds
X Avoids use of heavy
uncomfortable bandaging
X Radiotranslucent
Cage Pump Holders
This is nice way to
keep your floor clear by
suspending your IV bags,
pumps and sets from the
ceiling.
There is handy "Track
Joining Piece" (IVS012D)
This can be used for
joining track lengths
also available separately
in lengths of 1M or 2M
which can also be
cut to size - to allow you
to tailor the running
length to suit your room.
IV Stand Ceiling
Track
IV Stand Ceiling Track
Code Description Price
IVS009DD 1M Runner &
Drip Hanger
£117.50*
IVS011DD 3M Runner &
Drip Hanger
£155.00*
IV Stabilisers
Code Discription Price
IVS100 Petite (Blue) Cats &
Sml Dogs
£19.25
IVS200 Small (White) Puppies,
Lrg Cats & V. Sml Dogs
£22.35
IVS300 Medium (Green)
Med Dogs
£26.15
IVS400 Large (Burgundy)
Lrg Dogs
£30.00
IV Bag & IV Pump Holders
Code Description Price
QCVT05 Infusion Pump Cage
Front Attachment
Pole - Twist-In* 1
£29.95*
QCVT06 Infusion Pump Cage
Front Attachment
Pole - Slot On (For
Glass Doors)* 1
£24.95*
IVS001
IVS005
IVS002
IV Stands
IV Stand
Code Description Price
IVS001 Aluminium IV Stand
with 5-leg plastic base
& castors. With two
prong hooks
£46.95*
IVS002 Stainless Steel IV Stand
with 5 Steel Legs and
castors. With four
prong hooks
£65.95*
IVS005 Stainless Steel IV Stand
with 5-leg plastic base
& castors. With two
prong hooks
£55.00*
IV Warmer
X LCD Display
X Simple to Use
X Heating range: 30-42°C
(Increments 1°C or 0.1°C)
X Universal IV sets accepted from
3 - 4.5mm
X Highly accurate digital control
for temperature
(Celsius or Fahrenheit options)
X Fast heating, 3-5minutes to
reach the set temperature
X Includes Both Hanger &
IV Pole Clamp
X Dimensions 172x82x55mm
(Optional: Drip Sensor Upgrade
Available)
Vet Fluid Warmer
Code Description Price
AFW001 i-Clam Vet IV
Warmer
£165*