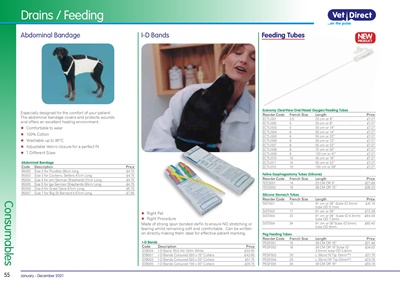 Consumables 55 January - December 2021
Economy ClearView Oral/Nasal Oxygen/Feeding Tubes
Reorder Code French Size Length Price
ECTU001 3.5 20 cm or 8" £7.27
ECTU002 5 20 cm or 8" £7.27
ECTU003 5 35 cm or 14" £7.27
ECTU004 6 35 cm or 14" £7.27
ECTU005 6 55 cm or 22" £7.27
ECTU006 8 30 cm or 12" £7.27
ECTU007 8 55 cm or 22" £7.27
ECTU008 8 75 cm or 30" £7.27
ECTU009 8 120 cm or 47" £7.27
ECTU010 10 40 cm or 16" £7.27
ECTU011 10 55 cm or 22" £7.27
ECTU012 10 150 cm or 59" £7.27
Peg Feeding Tubes
Reorder Code French Size Length Price
PEGF001 16 39 CM OR 16" £21.46
PEGF002 16 39 CM OR 16"(tube ID
3.5mm) tube OD 5.8mm
£24.02
PEGF003 20 L 39cm/16 Tip 15mm"*1 £21.70
PEGF004 20 L 39cm/16" Tip 20mm*1 £23.78
PEGF005 24 39 CM OR 16" £55.78
Silicone Stomach Tubes
Reorder Code French Size Length Price
SIST001 15 91 cm or 36" (tube ID 3mm)
tube OD 5.1mm
£41.74
SIST002 17 91 cm or 36" £72.28
SIST003 22 91 cm or 36'' (tube ID 4.5mm)
tube OD 7.3mm
£64.00
SIST004 24 91 cm or 36"(tube ID 5mm)
tube OD 8mm
£65.40
Feline Esophagostomy Tubes (Silicone)
Reorder Code French Size Length Price
FEES001 14 23 CM OR 9" £27.89
FEES002 19 38 CM OR 15" £28.23
NEWPRODUCT
Feeding Tubes
Drains / Feeding
X Right Pet
X Right Procedure
Made of strong spun bonded olefin to ensure NO stretching or
tearing whilst remaining soft and comfortable. Can be written
on directly making them ideal for effective patient marking.
I-D Bands
I-D Bands
Code Description Price
IDB004 I-D Band Roll Kit 100m White £33.95
IDB001 I-D Bands Coloured 500 x 10" Collars £43.95
IDB003 I-D Bands Coloured 500 x 20" Collars £51.75
IDB005 I-D Bands Coloured 100 x 30" Collars £29.75
Especially designed for the comfort of your patient.
The abdominal bandage covers and protects wounds
and offers an excellent healing environment.
X Comfortable to wear
X 100% Cotton
X Washable up to 95ºC
X Adjustable Velcro closure for a perfect fit
X 7 Different Sizes
Abdominal Bandage
Abdominal Bandage
Code Description Price
95002 Size 2 for Poodles 38cm long £4.75
95003 Size 3 for Cockers, Setters 47cm Long £4.75
95004 Size 4 for sml German Shepherds 51cm Long £4.75
95005 Size 5 for lge German Shepherds 60cm Long £4.75
95006 Size 6 for Great Dane 67cm Long £6.75
95007 Size 7 for Big St Bernard's 67cm Long £7.95