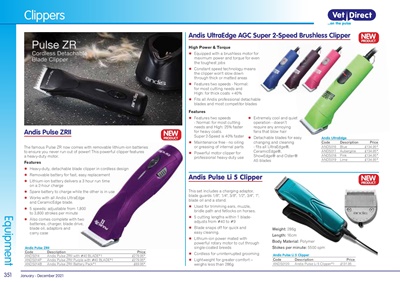 351Equipment January - December 2021
Clippers
This set includes a charging adaptor,
blade guards 1/8", 1/4", 3/8", 1/2", 3/4", 1",
blade oil and a stand.
X Used for trimming ears, muzzle,
bridle path and fetlocks on horses.
X 5 cutting lengths within 1 blade-
adjusts from #40 to #9
X Blade snaps off for quick and
easy cleaning.
X Lithium-ion power mated with
powerful rotary motor to cut through
single-coated breeds
X Cordless for uninterrupted grooming
X Lightweight for greater comfort -
weighs less than 286g
Andis Pulse Li 5 Clipper
Code Description Price
ANDS0120 Andis Pulse Li 5 Clipper*1 £131.95
Weight: 286g
Length: 16cm
Body Material: Polymer
Stokes per minute: 5500 spm
Andis Pulse ZRII
Code Description Price
ANDS014 Andis Pulse ZRII with #40 BLADE*1 £279.95*
ANDS014P Andis Pulse ZRII Purple with #40 BLADE*1 £279.95*
ANDS014B Andis Pulse ZRII Battery Pack*1 £69.95*
Andis Pulse ZRII
Andis UltraEdge AGC Super 2-Speed Brushless Clipper
High Power & Torque
X Equipped with a brushless motor for
maximum power and torque for even
the toughest jobs
X Constant speed technology means
the clipper won't slow down
through thick or matted areas
X Features two speeds - Normal:
for most cutting needs and
High: for thick coats +40%
X Fits all Andis professional detachable
blades and most competitor blades
Features
X Features two speeds
- Normal: for most cutting
needs and High: 25% faster
for heavy coats.
Super 2-Speed is 40% faster
X Maintenance free - no oiling
or greasing of internal parts
X Powerful motor clipper for
professional heavy-duty use
X Extremely cool and quiet
operation - doesn't
require any annoying
fans that blow hair
X Detachable blades for easy
changing and cleaning
- fits all UltraEdge®,
CeramicEdge®,
ShowEdge® and Oster®
A5 blades
NEWPRODUCT
NEWPRODUCT
Andis UltraEdge
Code Description Price
ANDS016 Blue £134.95*
ANDS017 Aubergine £134.95*
ANDS018 Pink £134.95*
ANDS019 Lime £134.95*
NEWPRODUCT
The famous Pulse ZR now comes with removable lithium-ion batteries
to ensure you never run out of power! This powerful clipper features
a heavy-duty motor.
Features
X Heavy-duty, detachable blade clipper in cordless design
X Removable battery for fast, easy replacement
X Lithium-ion battery delivers a 3 hour run time
on a 2-hour charge
X Spare battery to charge while the other is in use
X Works with all Andis UltraEdge
and CeramicEdge blade.
X 5 speeds: adjustable from 1,800
to 3,800 strokes per minute
X Also comes complete with two
batteries, charger, blade drive,
blade oil, adaptors and
carry case
Andis Pulse Li 5 Clipper