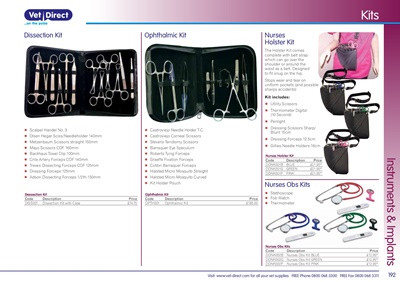 192
Visit: www.vet-direct.com for all your vet supplies FREE Phone 0800 068 3300 FREE Fax 0800 068 3311Instruments & Implants
Kits
Ophthalmic Kit
Dissection Kit
X Castroviejo Needle Holder T.C.
X Castroviejo Corneal Scissors
X Stevens Tenotomy Scissors
X Barraquer Eye Speculum
X Roberts Tying Forceps
X Graeffe Fixation Forceps
X Colibri Barraquer Forceps
X Halsted Micro Mosquito Straight
X Halsted Micro Mosquito Curved
X Kit Holder Pouch
X Scalpel Handel No. 3
X Olsen Hegar Sciss/Needleholder 140mm
X Metzenbaum Scissors straight 150mm
X Mayo Scissors COF 160mm
X Backhaus Towel Clip 100mm
X Crile Artery Forceps COF 140mm
X Treves Dissecting Forceps COF 125mm
X Dressing Forceps 125mm
X Adson Dissecting Forceps 1/2th 150mm
Dessection Kit
Code Description Price
DISS001 Dissection Kit with Case £74.75
The Holster Kit comes
complete with belt strap
which can go over the
shoulder or around the
waist as a belt. Designed
to fit snug on the hip.
Stops wear and tear on
uniform pockets (and possible
sharps accidents)
Kit includes:
X Utility Scissors
X Thermometer Digital
(10 Second)
X Penlight
X Dressing Scissors Sharp/
Blunt 15cm
X Dressing Forceps 12.5cm
X Gillies Needle Holders 16cm
X Stethoscope
X Fob Watch
X Thermometer
Nurses
Holster Kit
Nurses Obs Kits
Nurses Holster Kit
Code Description Price
DDNK001B BLUE £21.95*
DDNK001G GREEN £21.95*
DDNK001P PINK £21.95*
Nurses Obs Kits
Code Description Price
DDNK002B Nurses Obs Kit BLUE £12.95*
DDNK002G Nurses Obs Kit GREEN £12.95*
DDNK002P Nurses Obs Kit PINK £12.95*
Ophthalmic Kit
Code Description Price
OPTH001 Ophthalmic Kit £185.00